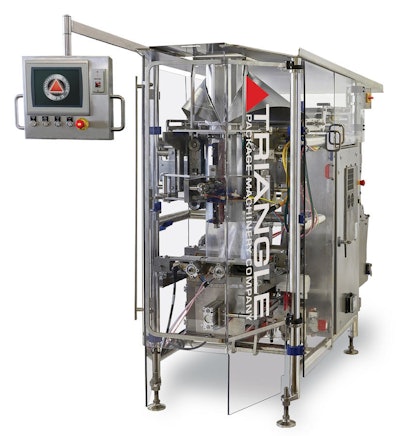 When Triangle's produce customers asked for a smaller bagging machine that could fit inside a narrow footprint and run bags up to 13" wide, while still offering the durability, flexibility and superior sanitation features that Triangle baggers are known for, we could only respond with two words: challenge accepted.
To solve the challenge, the R&D team at Triangle Package Machinery Co. took proven elements from the existing X-Series vffs baggers and designed the new Compact Sanitary Bagger, Model CSB. Components such as the control box, film cage, and machine frame were modified to fit into a narrow frame width of only 36". To achieve maximum benefits, two Compact Baggers can be installed side by side (as a twin on 35-inch centers), sharing the same scale for filling the bags
Model CSB packs a lot of benefits in a very small space. Designed with the fresh cut produce market in mind but suitable for a variety of applications, the vertical form fill seal (vf/f/s) bagging machine includes a film cage designed to be as narrow as practical, yet can accommodate the 27.5" film roll needed to make 13" wide bags.
Model CSB can run speeds of 70+ bags/min, depending on bag length. When set up this way, two Compact Baggers can fit on one salad line, 35 inches on center, to produce 120+ retail packages of leafy greens/min.This also provides the flexibility to run varying film structures or film rolls, or to perform routine maintenance on one machine without disrupting production on the second machine. Even in a side-by-side configuration, the bagger's small footprint is very similar in size to that of typical single tube baggers. This allows customers to achieve significantly more production within the same footprint without having to add more feeding systems, labor, and floor space.
Sanitation is also a key benefit. To simplify cleaning and maintenance needs, the bagger is designed to be washed in place.
Additional sanitation benefits include:
• Solid stainless-steel bar, fully welded and electropolished after welding;
• Frame is solid round bar stock;
• Internally mounted guard doors pivot on the frame, minimizing parts to improve sanitation;
• Pivoting control box offers easy accessibility;
• No slotted fasteners;
• Sanitary, 3-A approved leveling feet;
• Washdown-rated electronics, including IP67 washdown-rated motors for the pull belts, IP65 washdown-rated motor for the film unwind, and a minimum IP67 rating for all other electrical components.
In addition, as a Rockwell Automation Machine Builder partner, Triangle uses Rockwell controls, as well as optional RFID user management. A pivoting HMI enables better accessibility and ease of use for a single operator. All machines also include plant level ethernet for integration with plant control systems.
Model CSB also addresses the customers' desire for versatility. Like other Triangle vffs baggers, the bagging machine offers quick, tool-less changeover of sealing jaws, forming tubes or film rolls to run various bags or film structures. Bag sizes range from 2.5"– 13" wide. In its twin configuration, it can even run two types of film simulataneously.
Finally, Model CSB also offers optional Ultrasonic sealing, which can further increase efficiency. Ultrasonic sealing is a cold sealing technology that seals right through product such as leafy greens, virtually eliminating package rejects and rework due to product in the seal. Benefits include energy and labor savings, higher OEE, as well as less wasted product and materials. In addition, Ultrasonic seals are significantly narrower than heat seals and require less headspace in a package, which offers additional material savings.
Companies in this article