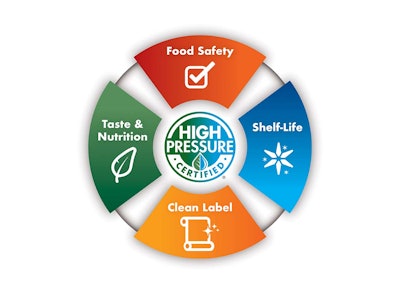 The Cold Pressure Council Annual Conference (CPC), scheduled for April 29-May 1, 2020, at the Loews Atlanta Hotel in Georgia, will return for the third time and feature the latest commercial and technical information on high pressure processing (HPP). Convened by PMMI, The Association for Packaging and Processing Technologies, the CPC conference will address market trends, offering best practices, packaging material insights, new HPP applications and tips for using HPP products.
Attendees will also get the chance to learn more about CPC's High Pressure Certified (HPC) mark. The HPC certification mark verifies that a product was preserved via high pressure technology (HPT). HPT extends the shelf life of packaged food and beverage products — including juices, dips, salsas, dairy, meat, seafood and even cosmetics — using extremely high cold water pressure. By subjecting the products to pressures between 100 and 600 MPa, HPT eliminates harmful bacteria while maintaining a fresh taste and higher yields of vitamins and enzymes.
So far, in 2019, three new companies started using the HPC certification on a total of 10 new products. That brings the total number of products certified to more than 160 from seven different companies. For certification approval, food and beverage companies must meet guidelines specific to their products. CPC offers guidelines for juices, proteins, and sauces and dips at https://coldpressurecouncil.org/guidelines/. Further information and requirements for verification are available at https://highpressurecertified.org/get-verified/.
For more information on the CPC conference, visit https://coldpressurecouncil.org.
To learn about HPP tolling services, read "HPP meets the pressure for fresher."
Companies in this article