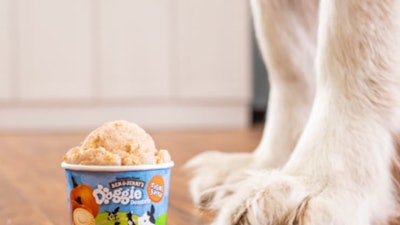 Ben and Jerry's, a Unilever company, is leaping into the pet food market with a new "Doggie Dessert" line of 4 ounce frozen pet treats that will be sold at both grocery and pet stores.
Made from the same ingredients used in non-dairy human desserts (with a sunflower butter base), the line is kicking off with two flavor offerings: pumpkin with cookies, and peanut butter with pretzels.
U.S. households with pets increased by 6.5% between 2015 and 2020, according to the American Pet Products Association - growth that was also fueled in 2020 by the COVID pandemic.
See Our Pet Food Industry Coverage and Download a Free PMMI Business Intelligence Report:
Access dozens of demos on demand from suppliers covering the pet food market for FREE through March 31 at PACK EXPO Connects.
PACK EXPO Connects offers one registration and unlimited access to suppliers such as:
ABC Packaging for case erectors, case sealers, case packers, palletizers for cases, bags and trays, decasers, unpackers, bulk depalletizers, robotics and more! Our Markets include: Bakery, snack, breakfast foods, dairy, meat, frozen foods, sauce, condiments, petfood, beverage, beer, wine, juice, soft drinks, water, cosmetics, toiletries, soap, baby products, chemicals, paints, industrial, household, pharmaceutical, electronics, computers, toys, games, sporting goods, rubber products, plastic, paper, printed products, and office supplies.
BELL-MARK develops innovative solutions for package and carton printing applications in the medical device, pharmaceutical, prepared foods, meat, bakery, dairy, and poultry packaging industries. BELL-MARK offers many in-line printing technologies including piezo inkjet, thermal inkjet, thermal transfer, flexographic, and ink coder, all of which satisfy requirements to print directly onto package and carton substrates.
Zhoutai pouch machine provide stand up pouch machine, flat bottom pouch machine, smart pouch machine for digital printed film, recyclable material pouch machine, with different kinds of zippers, PET good larger bag related tooling, coffee and tea bag tooling and liquid pouch spout tooling. And all kinds of assistant machine like auto pouch stacker, bottom fold and glue machine for larger bag, auto spout machine, die cutter etc...