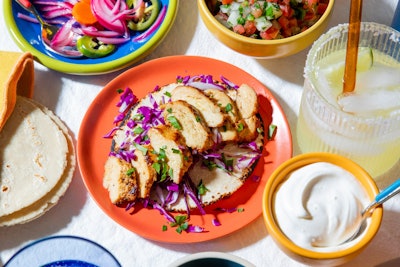 Upside Foods
California-based cultivated meat brands Upside Foods and Good Meat have been granted the final step of USDA approval to sell their chicken products commercially in restaurants and retail, and are the first two in the U.S. with that regulatory clearance. The companies had already received FDA approval, as both USDA and FDA approval are needed in the U.S. to sell cultivated meat. Good Meat previously received approval to sell its chicken in Singapore in 2020, the only other country until now to do so.
While the expense of producing cultivated meat currently keeps it from reaching price parity with meat harvested from live animals—particularly the cost and availability of media to feed animal cells while they grow in tanks—two high-profile restaurateurs have partnered with the companies to sell cultivated chicken on their menus. Chef Dominique Crenn will serve Upside's chicken at her Bar Crenn in San Francisco, and Chef José Andrés will serve Good Meat's chicken at one of his restaurants (not yet disclosed) in Washington, D.C.
Generally speaking, cultivated meat is grown from primary animal cells in cultivators similar to fermentation tanks for breweries, with some companies using edible scaffolding made of substances like soy or algae, for cells to latch onto and grow into an undefined piece of meat. Because cultivated meat doesn't grow into specific animal parts, like chicken legs or thighs for example, the finished mass of meat is formed later into whatever the company wants to sell, like nuggets, tenders, or even whole-muscle slabs.
During an interview I had last year with Lou Cooperhouse, president & CEO of San Diego-based cell-cultured seafood company BlueNalu, he predicted the 2030s would be the decade where cultivated meat would reach price parity as the industry figures out its supply chain for feed media and other expenses that keep it from immediately reaching wide-scale grocery distribution today.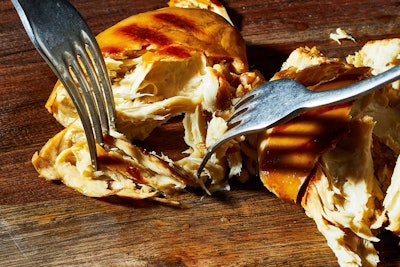 Josh Tetrick, co-founder and CEO of Good Meat and Eat Just, says the USDA approval to "produce and sell cultivated meat in the United States is a major moment for our company, the industry and the food system. We have been the only company selling cultivated meat anywhere in the world since we launched in Singapore in 2020, and now it's approved to sell to consumers in the world's largest economy. We appreciate the rigor and thoughtfulness that both the FDA and USDA have applied during this historic two-agency regulatory process."
Eric Schulze, PhD, VP of global & scientific affairs at Upside Foods, adds, "We at Upside Foods have long championed the dual regulatory jurisdiction of FDA and USDA, starting with a historic partnership with the North American Meat Institute in 2018. Since then, our team has been working diligently with both agencies to bring our cultivated chicken to market."
No word from either company yet about specific plans to scale up production and expand their processing capabilities now that they can sell products to the public, but Upside's plant in Emeryville, Calif., was future-planned with FDA/USDA approval in mind, and is capable of producing up to 400,000 pounds of cultivated meat per year.
Justin Dranschak, director of BioPharma at Molecular Devices, a company that works behind the scenes with cultivated meat companies with analysis and other services related to the development and growth of cell-cultured meat, says the USDA ruling "not only legitimizes this new kind of food production but also creates a visible regulatory pathway for other companies in the field. It encourages scaling up production, attracting more investment, and thus expansion of facilities," he says. "With other companies like BlueNalu and WildType developing some unique products, this will help push the industry into approvals for other models like fish."