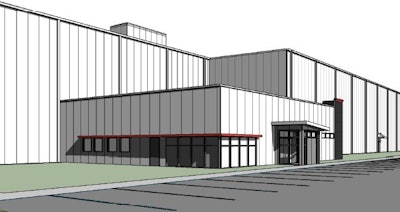 Swift Prepared Foods, a leading global food company and part of the JBS family, announced today that Columbia, Mo. has been selected for its new Italian meats and charcuterie production facility. For the past several months, the company has been working to identify the best location for the $200 million greenfield facility. Multiple locations were evaluated, but Columbia, Mo. was chosen due to to its strategic location, business-friendly environment, and the ability to access raw material and leverage synergies with existing strategic assets.
The 325,000-sq-ft Italian meats facility will include 26,000 sq ft of shell space for expansion in the near future and will feature cutting-edge processing throughout all aspects of its operations, including product manufacturing, automated product handling via robotics and automated guided vehicles (AGVs), slicing, packaging, and palletizing.
Stellar will design and construct the new facility, and provide project management, utility and mechanical, refrigeration, and process engineering services. Construction is set to begin in April and is expected to be completed by the fourth quarter of 2022. Upon completion, the facility will employ more than 250 people in the region.
This is Swift Prepared Foods' second major recent investment in Missouri. Last year, the company announced plans to invest more than $68 million in a new ready-to-eat bacon facility in Moberly, Mo. It's slated to open in May.

---
---
"We are excited to join the Columbia community and to bring good-paying jobs and innovation to the area with the addition of this new state-of-the-art facility," says Thomas Lopez, president and chief operating officer, Swift Prepared Foods. "After an extensive review of potential locations, we are confident that Columbia is a great fit for our company, and this decision supports our focus on continued growth."
"This project will further solidify Columbia's standing in the food manufacturing industry, complementing other great Columbia employers like Aurora Organic Dairy, Kraft Heinz, Quaker Oats, and Beyond Meat," says Brian Treece, mayor of Columbia. "Having Swift Prepared Foods in our community will bring new living-wage jobs and career opportunities for Columbia families."