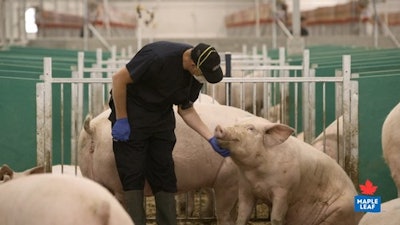 Maple Leaf Foods has been ranked as a leader in animal welfare by the Business Benchmark on Farm Animal Welfare (BBFAW), the leading global measure of policy commitment, performance, and disclosure on animal welfare in food companies.
Following its review of 150 companies in 25 countries, BBFAW ranked Maple Leaf Foods in Tier 2, a position occupied by just 12 companies. Only four companies are ranked in Tier 1. The ranking recognizes Maple Leaf Foods' industry-leading animal care programs and performance and makes the company one of only two North American protein companies in the top two tiers and the only Canadian-owned company to achieve the distinction.
---
---
The company has a demonstrated record of innovation in animal care. In addition to Maple Leaf Foods' recent completion of its conversion of its sow barns to open housing, the company has advanced other industry-leading animal care initiatives including:
Deployment of trucks with hydraulic lifts to reduce pig stress when boarding and exiting trucks
Purchase of temperature-controlled poultry trailers to protect chickens during extreme cold weather conditions common in regions where Maple Leaf Foods operates
The use of enrichments in nursery, finisher, and sow barns to encourage pigs to play and chew as they naturally would
Researching and piloting of a variety of enrichments in poultry barns that encourage chickens' natural behaviors to hide, perch, and peck, enrichments that also promote leg health in chickens by encouraging them to stay active
In addition, Maple Leaf Foods is committed to raising all its animals in ways that ensure optimal health and minimize the need for antibiotics. The company is among North America's largest producers of raised without antibiotics (RWA) pork and is Canada's largest producer of RWA poultry.
Companies in this article