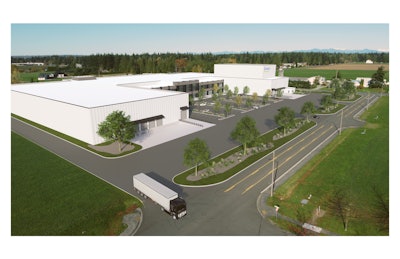 Alliance Freeze Dry Group (AFD Group) has broken ground on a new freeze-dried pet food factory in the Lynden, Wash. The new plant is not only the AFD Group's largest facility expansion to date, it also is one of the largest freeze-dried pet food factories in North America.
The 200,000-sq-ft building features a freezer, preprocessing area, freeze-drying section, packaging area, and automated storage and retrieval system warehouse. The new plant will adopt advanced processing technologies and fully automated production lines, which will make it a highly efficient and flexible digital plant, ready for future intelligent manufacture.
The new factory is planned to be operational in 2024 and will provide 4,000 metric tons of annual production capacity. The new factory is named "Canature Kitchen Lynden" and will create 74 new job opportunities.
Food Facility Engineering (FFE) is the architectural and engineering firm that is leading the design of this facility, which will be built by the Fisher Construction Group.
---
---
According to Gary Xu, founder and president of Alliance Freeze Dry Group, "Freeze-dried meals and treats mostly preserve the natural flavor and form, as well as the nutrition, of the raw materials, and are easily rehydrated and absorbed. Hence, freeze-dried products have become more and more popular and have been acclaimed as the superstars in the natural and healthy pet food sector. With our outstanding technology advantage, AFD Group will constantly innovate its products, processes and equipment to satisfy changing market demands. At the same time, while we are growing rapidly, we emphasize environmental protection and sustainability, for we only have one shared Earth."