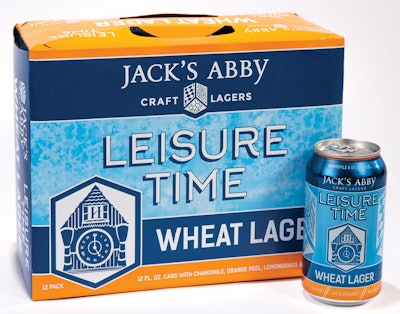 Founded in 2011, Jack's Abby Brewing Co., Framingham, MA, is owned and operated by three brothers—Jack, Eric, and Sam Hendler. The award-winning craft brewery specializes exclusively in lagers and currently distributes its products primarily in the Massachusetts, Connecticut, Vermont, and Upstate New York areas.
The business has been growing rapidly. To keep pace with product demand, the brewery has expanded its facilities and installed additional, more automated packaging equipment to augment or replace manual operations. Jack's Abby Brewing packages beers in 12-oz and 16-oz cans, 12-oz and .5-L glass bottles, half-barrel kegs, and 1/6 barrel logs.
Canned beers represent the largest portion of the brewery's business, so it stands to reason that a new canning line was installed about a year ago. When asked about the fact that some craft brewers were experiencing can supply issues, brewery co-owner and brew master Jack Hendler says, "We have encountered occasional problems obtaining a timely supply of 16-oz cans. But we are working on our end to make sure that we're factoring in necessary lead times to avoid those issues in the future."
A highlight of the new can line is automatic cartoning on a Spartan horizontal end-load/close cartoner from Econocorp that quadruples cartoning speeds. But upstream equipment from CFT is also quite impressive. In addition to a depalletizer, a rinser, and a monobloc filler/seamer, CFT also provided a 70-hectoliter brew house with malt milling, water prep, automatic CIP, and fermentation and maturation tanks. CFT was also chiefly responsible for line integration. Says Jack Hendler, "CFT was able to design the entire canning line at the same time they were designing and installing our brewhouse."
Packaging operations on the new line commence at the CFT Model 101 high-level depalletizer, which features automated removal of both layer pads and top frames. Layers of cans are swept off and single filed down through a dual-chamber can rinser. One chamber is for the 12-oz and the other for 16-oz cans.
160 cans/min
Next is the CFT MasterCan Tronic 20/4 counter-pressure filler/seamer monobloc. With 20 filling heads and four seaming stations, it has a rated speed of 160 cans/min. CFT manufactures both the filler and the seamer. According to Domenico Palandri, Managing Director of CFT Packaging USA, this results in the most compact monobloc in the market.
"If you have to marry two machine components that come from different makers, you need a longer tangential conveyor in between the two in order to match the pitches," says Palandri. "But when we manufacture both machine components in house, we can marry them much closer together. So the transfer time from filler to seamer is greatly minimized, which means less exposure to oxygen. In canning beer this is extremely important, because the lower the dissolved oxygen, the better the beer."
Exiting the seamer, cans are inverted and pass through a Heuft X-ray system that performs a seam check and checks for fill level. Should there be a problem in either area, that can is rejected from the line. Next a Gem Gravure ink-jet printer puts a date code on the bottom of the can. The brewer has this machine mounted on a cart so that it can be used on either the canning line or the bottling line. The cans are then uprighted again and pass through a CFT dryer to prevent moisture on the cans from damaging the paperboard cartons into which the cans are next inserted.
Next in line when four- or six-packs are being produced is a PakTech plastic ring carrier applicator. This machine is bypassed, however, when 12-count cartons are in production.
"To accommodate our can 12-packs, we chose Spartan horizontal erect/end-load/close cartoning equipment from Econocorp because we'd received good recommendations about their services," says Jack Hendler. It didn't hurt that Econocorp is located fairly close by. "The results have been excellent. Installation was a long process, beginning in September 2015 and completed and up and running in January 2016. But it was worth the wait. Cartoning times are about four times faster with this automated system. Econocorp staffers were here from day one and have returned a number of times to give us technical advice. They've made themselves readily accessible throughout the whole process."
In addition to erecting and loading the cartons, the Spartan machine also has Econocorp's own hot melt system for closing the cartons. Right now the brewery is using the cartoner for 12-packs of three brands: Calyptra, Leisure Time, and Hoponius Union. Jack Hendler says 6-packs and 18-packs are in the near future.
Carton blanks, printed in three colors, are supplied by RTS Packaging. The cartons are manually packed two cartons per tray into corrugated trays supplied by Interstate Container. Palletizing is also done by hand.
Companies in this article