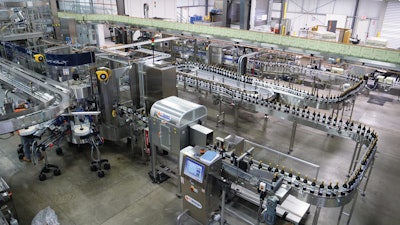 Since the 2014 installation of a Superbloc filling sytem from MBF, the McManis Family Winery of Ripon, CA, has quadrupled in size. So eventually, packaging machinery upstream and downstream of the Superbloc had to be automated. Central to the automation upgrade has been the installation of inspection technology.
As currently configured, the line begins with a low-level depalletizer from Emmeti that sweeps bulk glass layer by layer and single files the bottles so that they can pass through an inspection system from FT System. The actual camera technology in this system comes from Cognex, but FT System integrates it into their solution and also takes care of the software programming, bottle handling framework, and reject table.
"I like the way they've incorporated Cognex into their system," saysDirector of Packaging Operations Manny Moreno. "It lets us check for chipped finishes, chipped shoulders, cracks, and foreign objects. It's really thorough."
Downstream is another inspection station from FT System. This time it's checking for fill level, cap presence, cap quality, capsule presence, and label accuracy and positioning. "We want to make sure, among other things, that the operator didn't put the wrong label on or that the roll of pressure-sensitive labels coming from the supplier has a missing or damaged label on it," says Moreno.
Two more FT System units perform inspection on the line, including one located right after the case packer. The corrugated cases pass over a checkweigher from FT System that is a final opportunity to make sure everything is okay with the case. If an insert is missing, for example, or a bottle leaking, that case will be rejected.
The fourth FT System inspection station in the line looks at the accuracy and legibility of the corner wrap label on the wrapped pallets.
Companies in this article