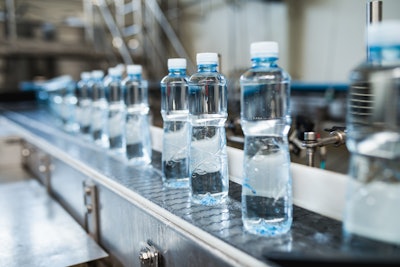 Getty
In 2019, there were an estimated 3,000 beverage manufacturing locations in the US, including contract manufacturers and packagers. (Not including alcohol or dairy.) While consumer trends are pushing manufacturers to create new flavors, new formats, and new packaging, this SKU expansion and demand for innovative products has created production challenges and the need for equipment or line improvements.
The pandemic has also increased interest in e-commerce, product safety, and active health management, and has disrupted the supply chain immensely. Nearly all beverage manufacturers interviewed for PMMI Business Intelligence's new report stated that they are experiencing sourcing shortages for both materials and ingredients. This is having a significant impact on business operations, particularly for those looking for aluminum, PET and rPET, and corrugated. Said one Director of Engineering, "The can shortage is global; we delayed moving a product from PET to cans since we are already on allocation now with our suppliers." Manufacturers are also reporting rising prices for both ingredients and resins.
---
---
To keep up with consumer demand, beverage manufacturers are examining key aspects of their production and packaging. They are seeking to add greater efficiency to their entire operation by making machines "smarter" and updating older equipment with modern technology. By turning to digital technology and automation/robotics, manufacturers are able to streamline production, maximize uptime, minimize product waste, and reduce user interface. One Packaging Engineer said, "We are looking at advancements in data management, machine learning, and robotics to automate the process of packing a variety of products during palletization for re-distribution to stores."
According to the report, these improvements often necessitate new machines and new lines, in addition to building a team of expert advisors to achieve production goals. Because OEMs have a large role to play in responding to these goals, beverage companies are increasingly looking to OEMs that can provide turnkey solutions. 50% of beverage manufacturers interviewed stated that they expect their capital budgets for equipment to increase in the next few years, so OEMs have opportunity to collaborate with beverage companies and secure new partnerships.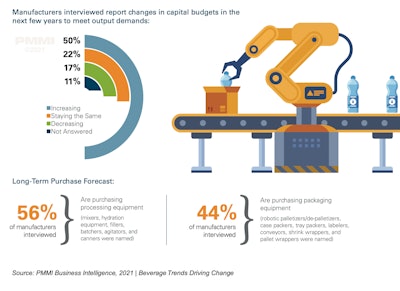 One final area of opportunity that the report mentions is mergers and acquisitions – a key part of the market strategy for large beverage producers. These producers use M&As to add successful brands and expand their portfolio while also accommodating changing consumer demands; add additional capabilities to production that they are currently lacking; build up their core competencies and enhance their existing operations; and, expand their offerings into new geographic locations. Though COVID slowed M&As, the second half of 2020 was defined by a growing number of smaller transactions, and this area is picking up again.
Download this FREE report below.
Source: PMMI Business Intelligence, "2021 Beverage Trends Driving Change"