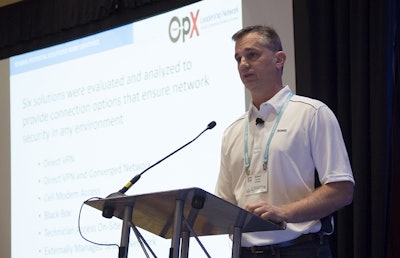 Imagine you're running a plant that bottles beverages on three lines, all running at a fairly high rate of use and all of which you think are running pretty well. Marketing tells you, though, that the company is coming out with a new product in the next year, and forecasting says demand is going to be through the roof. You think you're going to need a fourth line.
"Is that the most operationally effective thing to do? Maybe not," contends Bryan Griffen, director of industry services for PMMI, the Association for Packaging and Processing Technologies.
Griffen advocates making use of several free tools provided by the OpX Leadership Network to better understand what benefits the new line will bring. The total cost of ownership (TCO) tool, for example, will help managers understand all the costs involved with putting in the new asset and keeping it operational over its life.
Your existing equipment might not be running as efficiently as you think, so it's worth taking a look at overall equipment effectiveness (OEE). OpX's OEE benefit calculator defines a way to measure and calculate OEE, and also run scenarios on the equipment. "If I increase OEE, now what's my throughput? Maybe we look at these three lines and find out we could bump up OEE," Griffen commented. "All of a sudden, we don't need a new line. We can meet expected sales in the first year, and can delay purchase of a new line for a year."
A request for proposal (RFP) tool would help the bottling plant and machine builders come together to better understand what the needs are. And a factory acceptance testing (FAT) tool provides protocols and checklists to clarify expectations and requirements.
Griffen detailed this scenario during a presentation at the Automation Conference & Expo, put on last week in Chicago by Automation World and its parent PMMI Media Group.
When PMMI founded the OpX Leadership Network several years ago, the idea was to improve operational excellence for manufacturers. "We wanted to improve how we implement things our customers want; how we empower our employees to get a better response from what they do; and optimize processes so we get from them what we intended to get from them," Griffen said.
With nearly 25 years of industry experience—20 of those with Nestlé, including participation in the OpX Leadership Network as a Nestlé representative—Griffen is very familiar with the various pain points keeping manufacturing folks up at night. As part of his duties since joining PMMI last year, he now oversees the OpX Leadership Network.
"We now have around 250 manufacturers that are participating in the work products that we provide," Griffen told the audience, describing the tools as "by industry, for industry and free to the industry."
Remote equipment access
Remote equipment access has been a big pain point for manufacturers and OEMs alike. Although allowing a machine builder remote access to equipment on the factory floor is undoubtedly the fastest and easiest way to keep assets healthy or get them back up and running quickly when things go wrong, there are many considerations: implementation and operational costs, ease of use for both IT and operations (OT), reliability, accessibility and network security.
Not surprisingly, cybersecurity is a key strategic objective within OpX's work on remote equipment access, noted Rob Dargie, a senior electrical engineer with Amway, who gave a separate presentation focused on the remote equipment access tool. A wide range of CPG manufacturers contribute to developments in secured vendor management. "The goal is to enable safe and secure remote diagnostics and assistance by suppliers of equipment in CPG manufacturing plants," Dargie noted.
The team evaluated six different connection options to ensure network security in any environment:
Direct VPN
Direct VPN and converged network
Cell modem access
Black box
Technician access on site
Externally managed secure network
Analyzing a variety of attributes such as the IT skills required to get the system set up vs. the OT skills required to maintain it, the OpX group provides a high level of insight into how the various options compare. Depending on the audience, the tool can provide a high-level view into the benefits and risks of each option or a more technical view that dives deeper into the architecture, Dargie explained.
"We hope this selection guide can add some clarity in the selection process," he said. "We want to keep security in mind, but also be accessible and reliable, and keep the equipment running."
This tool is not yet available, but it will be released soon on the OpX Leadership Network website, according to Tom Egan, vice president of industry services for PMMI.
Request for proposal
The RFP tool, in peer review now, is another one coming out soon, according to Tom Doney, expert engineer at the Nestlé Development Center, who provided a separate presentation to take a closer look at that tool.
"In the past, communication between end user and OEM machine builder has been far from efficient," Doney said. "OEMs don't appreciate having to go through a heavy volume of information trying to figure out what the end requirements are," while end users typically feel that they don't have enough information about what the equipment can do.
There are several considerations that go into an RFP:
Deciding what you want (functional requirements)
Communicating what you want
Evaluating what you were offered
Preparing the order
OpX's RFP process template is a universal user requirements specification (URS) to help you through all of those considerations. It provides an outline listing key requirements topics for packaging machinery specifications. Something that specifications often leave out are product and package descriptions, according to Doney. "Not just this is a bottle of whatever, but what are the dimensions of the bottle, the materials of the bottle, package weight," he said. "This will give the supplier a better sense of what they're going to be faced with."
If both parties use a standard template for communicating requirements and capabilities, evaluations for bids and decisions for purchase can be more straightforward, Doney explained. "With this document, we can achieve capital project excellence, delivering vertical startups consistently to CPGs," he said. "A lot of times when you don't have a vertical startup, it's because something was missed. Maybe the OEM miscommunicated a capability, and the end user thought the machine could do something it couldn't do. The RFP template will close the gap and bring understanding and appreciation to all."
More tools
OpX has several different products designed to help manufacturers in the quoting and buying process, including TCO, FAT, RFP and hygienic design; to reduce unit costs with OEE and sustainability; in quality, with product safety and clean-in-place (CIP) guidance; and in performance with workforce engagement, worker safety and remote equipment access. New this year, OpX is releasing tools to help guide manufacturers in asset reliability and obsolescence management.
Read more about the tools and benefits of the OpX Leadership Network:
Companies in this article