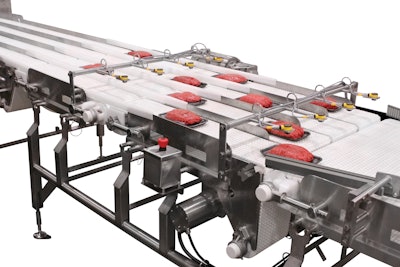 Today, food manufacturers are producing more SKUs than ever before – and they're often doing it on existing infrastructure. This means their equipment, including the conveyor systems, needs to be versatile to handle different product lines and designed for fast cleaning.
To accomplish higher production rates, processors need to gain an understanding of how sanitary conveyor systems interact with other machinery and equipment. As equipment becomes more complex, the key is to understand the relationship between each component to best maximize the overall throughput and improve Overall Equipment Effectiveness (OEE).
"There's a perception still lingering that the rate of production is determined by individual machines," says John Kuhnz, vice president – engineered solutions for Dorner Mfg. Corp. "You want to produce 120 products per minute? Just crank up the speed and let it fly, right? Not exactly."
When looking at the overall food manufacturing process, Kuhnz says, system throughput isn't decided by the individual machines. Rather, it's decided by how well you can get product in the right orientation, with the proper spacing, at the precise time to properly hand it off to the next machine in the line. "By doing this, the entire processing/packaging line will run efficiently and at peak performance," he states.
To accomplish this, food companies are not just looking at conveyors to see where they can make improvements, but analyzing the entire processing/packaging line to increase efficiency and OEE.
In the era of FSMA, sanitary conveyors are no longer an afterthought, says Kuhnz. "The key is to select the right sanitary conveyor for the application. A strong sanitary conveyor platform has a hygienic design that not only minimizes product debris but also allows for fast and effective sanitation."
Engineering developments in conveyors like removing small nooks, crevices and fasteners that can become catch points for water, food particles and other particulates may seem small, but can go a long way toward reducing breeding environments for bacteria. Other features, like rounding squared edges to allow water and particulates to run off, also contribute to a conveyor's hygienic design.
According to Kuhnz, it's important to note a misconception that all stainless steel conveyors are sanitary. "Stainless steel is certainly the right material to use in applications that call for regular washings with light chemical cleaning agents, but it's not necessarily sanitary."
To learn how conveyors affect OEE, visit: http://www.dornerconveyors.com/News-Blog/Learn/How-to-Achieve-OEE.aspx
Companies in this article