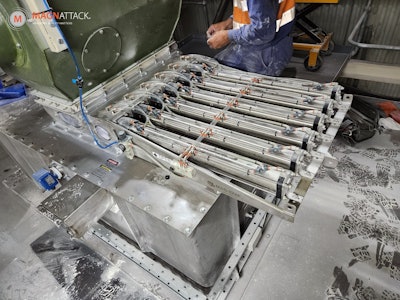 The Magnattack Mag-Ram automatic magnetic separator is typically installed in 1 to 800 TPH applications at bulk intakes after raw materials have undergone initial screening, bulk outloading locations, in difficult-to-access locations, prior to metal detectors (to decrease rejection rate), or prior to expensive processing equipment (to reduce damage and downtime for repair).
The Mag-Ram is self-cleaning and can be programmed to clean before, during, and after production runs, making it a suitable choice for applications with high levels of metal contamination. Each magnet is the Ram of a pneumatic cylinder, meaning that there is no "walking" or "jamming" when multiple bars are simultaneously cleaned.
The Mag-Ram is available in a sanitary (dairy-grade) option, as well as with an abrasion-resistance coating for abrasive dry product applications, such as meat and bone meal, cold grain, sugar, and corn kernels.
Companies in this article