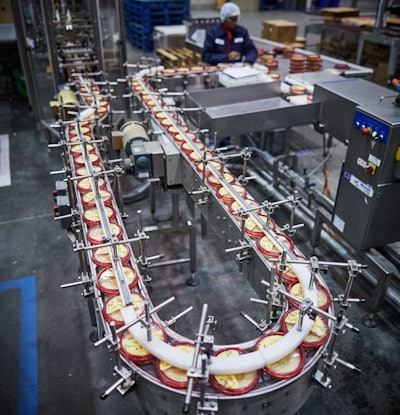 Sabra Dipping Co., Chesterfield, Va., achieved LEED-Gold New Construction certification for its new 106,475-square-foot expansion, making it the first manufacturer in the state of Virginia to receive this certification.
This latest expansion, designed and built by The Dennis Group, Springfield, Mass., uses 44% less energy and 45% less water than a typical food processing facility, all while doubling production capacity.
"More than 20% of the construction materials were sourced from recycled content, and only low and no-VOC paints and coatings were utilized to ensure healthy indoor air quality for the building occupants," says Meiky Tollman, Sabra's vice president of growth and capabilities.
"This is Sabra's sole hummus manufacturing facility, producing more than 30,000 cases of hummus a day on average for retail and foodservice consumers across America," says Tollman. "This is Sabra's second LEED certification for the Chesterfield facility, and the company plans on keeping its environmental long-term vision," says Tollman.
Sabra first expanded the Chesterfield facility in 2014, receiving LEED Silver for its proprietary solutions designed to support further innovation and enhanced food preparation as well as improved efficiencies to packaging and receipt of fresh ingredients and raw vegetables.
"Manufacturing, and food processing specifically, is inherently resource intensive," said Mary Frances Stotler, director of sustainability for The Dennis Group. "Mitigating energy and water usage is not only good for the environment, but also makes sound financial sense. The payback period for most energy efficient initiatives is very short."
Companies in this article