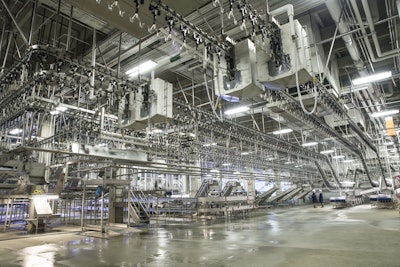 A 180,000-square-foot poultry deboning facility that will enable Sanderson Farms, the nation's third largest poultry processor, to expand its market reach into the Carolinas and the Northeast began operations January 10, just 24 months after the company began searching for a site.
The $155 million complex in St. Pauls, N.C., will ultimately employ a workforce of 1,100 when it becomes fully operational in 12-14 months. Combined with a new hatchery and an upgraded feedmill in nearby communities, it completes the integrated poultry processing ecosystem Sanderson Farms has built to serve the market. The plant will eventually process 1.25 million birds every week, enabling the company to expand its deboning market target by 12 percent and serve a broader customer base.
Sanderson Farms is the only U.S. poultry processor to have built multiple processing complexes since 1997. Headquartered in Mississippi and with $2.8 billion in annual sales, it operates 11 processing plants in five southeastern states with a capacity of more than 10.625 million chickens per week. The company employs more than 13,000 people.
"Our business strategy for the past 20 years has been to grow organically rather than through acquisitions, so we always start with greenfield plants," says Bob "Pic" Billingsley, director of development and engineering. The St. Pauls plant, located in Robeson County in the southeastern part of the state, was his seventh for the company.
Billingsley and his team start with a lengthy checklist to determine whether a site will satisfy the company's expectations, including sufficient land, a population large enough to meet workforce needs and access to major roads, electricity, gas and water.
"The site was already a state-certified industrial park, so that streamlined zoning and environmental approvals," he says, "and the county leadership was forward-looking, which allowed us to move quickly on due diligence, engineering and construction. We were also able to acquire an additional 1,000 acres where treated water from our on-site wastewater treatment plant will be sprayed."
Built just 1.5 miles from the main Interstate 95 corridor that extends from Maine to Florida along the eastern seaboard, the St. Pauls complex lies within a network of major roadways and rail lines that will assure speedy distribution of fresh and frozen poultry. The three major gas lines serving North Carolina also intersect in Robeson County.
"Once Sanderson Farms selected the site, all project partners moved rapidly to assist the company so it could meet its ambitious construction schedule," says Greg Cummings, Robeson County economic development director. State, county and local governments put together incentive packages and scheduled highway ramp, water and sewer line construction on a fast track. Electric and gas utilities serving the state also gave the project priority.
"We knew this was the kind of company we wanted here," explains Cummings. "They're committed to product quality, environmental responsibility and long-term jobs with benefits for employees." Jobs were especially important to the county, which was devastated by the implosion of the textile industry that once supported local residents.
"We've lost 9,000 jobs since the 1990s and at one point our unemployment rate was more than 21 percent, although that's been turning around in the last few years with several companies locating here."
North Carolina's food processing industry is now the second largest in the U.S., with more than 960 food and beverage manufacturers located in the state, including poultry processors Butterball and Tyson. It generated $16.3 billion of the state's GDP in 2015. The state also ranks second in the country for farm cash receipts for poultry.