Whether you know them as chicharrones, cracklings, or rinds, oil-fried pork skins are crispy, salty snacks that have been surging in the snack aisle thanks in part to a short and simple list of familiar, natural ingredients. They're especially popular among keto diet adherents due to their punch of protein and zero-carbohydrate status when compared to potato- or rice-based snack chips.
The entire product family is produced from raw pork skin pellets, but there's some nuance between varieties. Rinds are certainly crispy, but lighter, more airy, and smaller than other pig skin formats at about 1 x 1 in to 1 x 3 in. Cracklings and chicharrones are crunchier, require more of a bite, and consist of longer strips of 1 x 6 in to 1 x 9 in. In the oil fryer, pellets are said to 'pop' or puff up, akin to corn kernels popping, to achieve the desired crispy texture. A dusting of dry ingredient seasoning finishes the fried and cooled snack before packaging, usually bagging or pouching.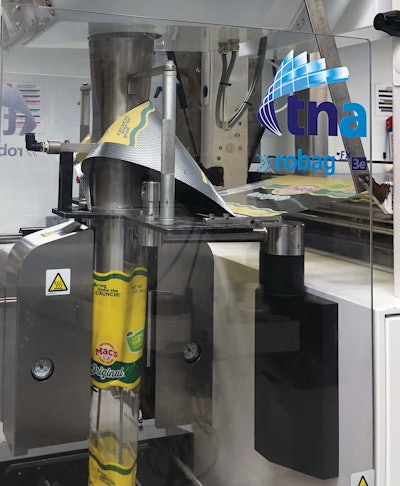 California's Benestar Brands, a producer of pork rinds, chicharrones, and cracklings for its own brands Mac's Chicharrones, Turkey Creek Snacks, and Pörq, as well as CM/CP for private label, says it recently developed a highly efficient processing and packaging line for its bespoke rinds and cracklings. Installed in summer 2019, Benestar says this latest complete processing and packaging line from TNA Solutions improved the manufacturer's product quality tenfold while significantly reducing energy use and enhancing efficiency.
"TNA Solutions' experts have a deep understanding of our industry, while being open to listening to our specific challenges and finding out-of-the-box solutions. The accommodation of our specific needs, from footprint restrictions and frying demands to intricate seasoning, helped facilitate our partnership with TNA and develop an excellent product to satisfy every pork fan," says Jose Gomez, chief technical officer at Benestar.
With a loyal following of label-reading consumers, many of whom aligned with the natural, wholesome, and nutritional food movements, Gomez knows he has to deliver consistently high-quality product. Investing in automation technology helped the company to extend snack shelf life, while improving the quality with an eye on continuous improvement.
TNA had a hand in optimizing processing and packaging from the outset, with the pork rinds and cracklings being fully tested at its technical center facility in Texas prior to the equipment purchase with a focus on consistent texture, seasoning, and flavor. Benestar says TNA's guidance and technical support throughout the manufacturing process ensured the product could be brought to market quickly and efficiently.
"Our partnership with Benestar Brands has been very exciting and has fueled the engineering innovation of our team," adds Adam Holloway, TNA regional sales manager, North America. "Pork rinds have very different product characteristics to traditional snacks we have been working with, such as potato and tortilla chips. We brought the years of processing experience in terms of treating food products in oil baths, while Benestar Brands contributed specific application knowledge—two key ingredients for a successful outcome."
Starting upstream at the fryer
Manual infeed to the packaging line consists of 20-lb corrugated cases of raw pork skin pellets that are removed from pallets, opened, and poured into a hopper that feeds an incline conveyor. From there, the pellets get a short ride in a TNA roflo V M3 distribution conveyer, a vibratory conveyor that separates full-sized pellets from the so-called 'fines,' and feeds the preferred pellets into the fryer.
The system uses a TNA batch-pro 12 fryer that reduces rejects to less than 3%, while a unique fryer design minimizes oil use, contributing to both product and material savings. The fryer system also provides direct-fire heating for improved energy efficiencies and lower operating costs. And thanks to a three-stage oil filtration system, the continuous frying technology with submerged guide-belt conveyor ensures efficient oil management and turnover, eliminating the need to discard oil daily after every single production run, saving costly material. The new fryer also lowers free fatty acid (FFA) levels, enabling nutritionally appealing, consistent end product that tastes great and has a desirable color and texture. Stakeholders say this unique oil management and filtration system say hadn't been done prior to this installation. Here's how it works.
Since the raw pork skin pellets contain fat, they release their own oil when heated in the fry oil. That means this added oil needs to be removed from the system on occasion, and all the while, FFA buildup can occur. These conditions make oil and sediment management key. The fryer includes a sediment belt that runs along the bottom of the fryer pan, scraping off discardable particulates and depositing them into the filtration system. That system filters the oil, redistributes the rendered lard back into the system if it's needed, or into a storage tank if not required. The undesirable particulate caught in the filters is disposed of outside of the fryer.
The fryer was also designed with sanitation in mind, without any small enclosures or hard-to-reach nooks or crannies. Unlike Benestar's legacy fryers, the latest installation employs a hood that not only serves to efficiently retain heat during the fry, but it also easily lifts for operator access for weekly boil outs and clean outs. When this hood is lifted for sanitation, the internal conveyors lift with it, making the fry tank easily accessible.
Achieving efficiency gains and reducing environmental impact were also high on the agenda for Benestar when selecting a new production line, driven by regulatory changes and increasing pressures from retailers and consumers. TNA helped Benestar to replace direct heating with heat exchanger technology, reducing energy use in the most energy intensive process—frying. TNA installed a LO NOx burner, reducing harmful nitrogen oxides (NOx) emissions and helping the company comply with Californian regulatory requirements.
Out of the fryer and into the bag
As often happens with automation and additional efficiency added upstream, downstream packaging automation came along for the ride in order for Benestar to get the most out of the system and prevent bottlenecks. Once the fryer was installed, TNA added the connective tissue between processing and packaging, including product distribution systems, cooling fans, and a seasoning system to feed four vertical baggers.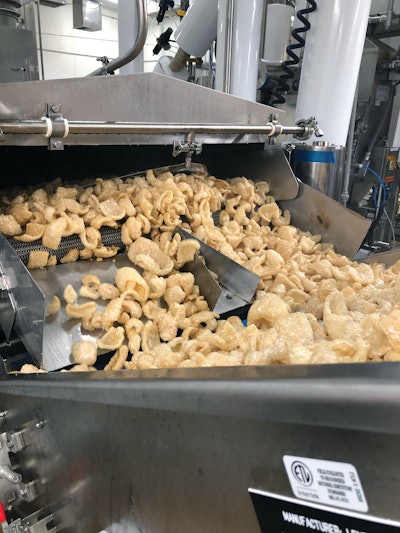 Product leaves the fryer and travels up a small incline conveyor to a vibratory distribution system on a mezzanine level, cooling to about 110°F to 120°F as it's carried. The vibratory distribution system from TNA uses proportional conveyors that shift back and forth to feed two large storage hoppers that then feed the multihead weighers/combination scales that reside above and feed the baggers. This makes the system on-demand—as the baggers' multihead weighers become starved for product, the distribution systems tells the storage hoppers to feed them as needed in this continuous process.
Flavoring is done immediately ahead of bagging with one of four TNA seasoning systems. The latest of the four, the TNA intelli-flav OMS 5.1 seasoning system, allows for the most consistent coverage without costly ingredient losses. Seasoned pork rinds then enter one of four vf/f/s baggers, including one new robag 3e high-performance vf/f/s packaging system. The other three seasoning systems are still in good working order, but Benestar is eyeing an upgrade to the OMS 5.1 on the remaining lines, too, to take advantage of the consistency and waste-avoidance features that the new system affords.
Only one variety of pig skin—pork rind, crackling, or chicharron—can run on the system at any given time since a single fryer feeds downstream operations. But once in the hoppers, four different lines with four different potential flavorings and four different potential bag styles are fed simultaneously. Having these three to four baggers working in concert helps Benestar efficiently pack different flavors of product on the same line, at the same time, at a high speed. Product is introduced to each bagger via a combination scale, and metal detection occurs between the combination scale and the continuous bagging operations—the last moment the product is in free air before it's portioned into the bag. The only unusual feature on the combination scale is that the bucket heads are larger than might typically be used for bags of snack products like chips or trail mix, given the larger product size specific to chicharrones. The baggers themselves also feature nitrogen backflush to remove oxygen from the bags, prevent product oxidation, and extend shelf life.
While the system can feed all four 4-axis servo continuous motion baggers at once, more typically the system operates using the latest three bagger models, the new robag 3e and two robag 3ci models. The fourth robag 3 serves as overflow or in special material or bag size situations. Remember, since Benestar is in part a CM/CP, it performs a lot of private label manufacturing. That means the baggers need the flexibility to accommodate dramatic size and format shift changeovers from brand to brand, from small, individual 1.5-oz packs to traditional 8-oz to larger club store sizes. Rollstock materials range from printed metalized film to clear poly bags to which pressure-sensitive labels will later be applied. Bag size and rollstock changeovers are quite frequent, so having four baggers, each serving as a Swiss Army Knife in terms of size and material range, is important.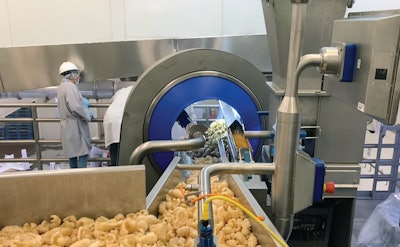 The new robag 3e vf/f/s is TNA's newest latest generation machine, which has 30% less wiring than previous models, uses PC-based controls from Beckhoff, and is more streamlined than previous generations. The bagger also features product-in-seal detection. When enabled, the system not only detects and rejects bags where product is trapped in the seal, but it also slows the line when a certain threshold of product in-seal rejects is met, preventing further rejects. Alternately, if no product is found in-seal for a certain duration, the system increases the bagging speed, so line speed is optimized to run as fast as it can before in-seam product rejects become an issue.
A single-point interface allows operators to control the date coder, the scales, and the bagger from a single HMI.
"It's quite convenient compared to other machines on the market, where each operation has a different interface," Holloway says.
At the moment, Gomez and Benestar are considering SCADA and OEE optimizing plant-based software in order to use data for predictive maintenance. The new robag 3e bagger features an onboard platform for predictive maintenance that isn't currently being used, but will ready to go if and when Benestar decides to take the data-based plant optimization plunge.
After vf/f/s bagging, case packaging and palletizing operations at Benestar are manual. That's because quite a bit of the manufacturer's output is earmarked either for convenience stores or club stores. For convenient stores, that primarily means bulk cases of 12 or 24 counts, which go into RSC cases and are placed on a pallet. And for the club stores, pallets are stacked specifically for retail ready and floor displays—automating that type of specialized pallet stack is difficult.
But between the fryer infeed and the bagger output, everything's automated, optimized, and humming along without much need for operator supervision.
"Our collaboration with TNA solutions has clearly propelled our production process to industry-leading standards. The tna robag 3e has not only enabled us to significantly speed up our packaging process but also ensured that both pork rinds and cracklings are handled with utmost efficiency on the same line. Moreover, the expertise and innovative solutions provided by TNA's team were crucial in overcoming footprint restrictions and addressing specific frying and seasoning demands, allowing us to elevate the quality of our products tenfold while achieving remarkable energy efficiencies," Gomez says.
Companies in this article
Videos from TNA North America Inc.