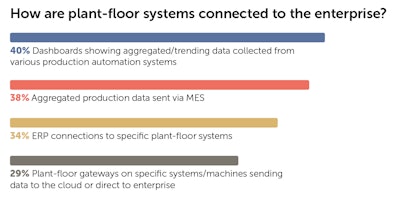 Pity the poor plant manager, tearing his hair out as corporate executives—excited about the potential of the Industrial Internet of Things (IIoT), but with little patience for the limits of current operational technologies—demand more and more data out of his production systems.
That's the scenario reported by many in a recent survey asking Automation World readers whether and how corporate executives are using information from the plant floor in their decision-making. As one respondent complained, "It just means more work for plant personnel."
On the positive side, greater operations visibility is winning manufacturing leaders some much-needed respect in the executive suite, and a seat at the table when strategic and investment decisions are being made.
"Manufacturing was once considered the noisy, dirty part of the operation, one many companies viewed as an unfortunate necessity," says Paul Boris, vice president of manufacturing industries at GE Digital. That might be one reason why corporate executives often found it easy to downsize or offshore manufacturing tasks.
Where marketing, research or finance once ruled the corporate roost, however, Boris says manufacturing now has an elevated status because of a number of factors, including the debate over jobs with middle class wages, the emergence of new technologies such as additive manufacturing, and the potential of IIoT to leverage data to make companies more productive and profitable.
Though 73 percent of survey respondents say they collect plant-floor data for corporate use, the most widely used vehicle for reporting is often a spreadsheet. The worker-intensive manual data entry this usually requires, say many responders, can motivate companies to begin automating the digital collection and analysis of plant information.
The most widely used digital transmission routes to the executive suite include manufacturing execution systems (MES), dashboards displaying aggregated or trending data, as well as enterprise resource planning (ERP) connections and plant-floor gateways to specific production systems. Roughly 30 percent of respondents say data is transmitted through cloud-based systems.
Though the hype surrounding IIoT sounds enticing, the logistics of getting from here to the future can be daunting, given that 80 percent or more of production systems contain legacy equipment never designed to communicate beyond the plant floor. That could be one reason why 27 percent of survey respondents say they don't send plant information to enterprise systems.
Actionable intelligence
Nonetheless, the trend toward sharing plant-floor information with corporate executives is accelerating as data gets more reliable, faster and easier to access. A majority of respondents who don't currently share plant data with enterprise systems say they plan to start doing so within the next one to five years, while nearly half of those already sending data say they've been doing it for five or more years.
Executives most often view plant data using desktop/laptop dashboards (88 percent), office or boardroom visualization displays (37 percent) or mobile devices (24 percent).
When executives receive plant data, they're commonly looking for indicators of business health and productivity. These include production rates and capacity usage (80 percent), quality (66 percent), downtime (53 percent), order fulfillment and output (49 percent), and supplies of parts, components and materials (42 percent). Multiple respondents also mentioned real-time process data, asset utilization, condition monitoring, logistics and maintenance planning.
Survey respondents say increased executive involvement has resulted in a number of changes to plant operations, including optimized production procedures (65 percent), more automation technologies to expand the level of data sent to corporate for analysis (44 percent), additional production equipment (38 percent), changes in staffing levels (29 percent), changes to supply chain partner agreements (21 percent) and new business partnerships (13 percent).
Anecdotal evidence suggests this data is helping executives make major decisions on whether to expand or consolidate plants, where to reduce costs, how to manage their supply chain and when to update or acquire production assets.
"I'd say we're at 7 on a scale of 10 in having a greater understanding of what a digital enterprise could mean," says Aravind Yarlagadda, vice president of strategy and marketing for the software business at Schneider Electric. Though confined now mostly to larger facilities, especially those with multiple plants, the necessary knowledge base is beginning to extend to smaller-scale operations as technology and generational changes take effect.
"Companies are beginning to ask the right sort of questions," Yarlagadda adds, "such as which of their plants is yielding the best-quality product, how much revenue is each plant contributing, what degree of manual effort is required to achieve that, are safety standards being implemented or is the workforce digitally enabled."
A counter viewpoint
One of the most challenging aspects of analyzing production information is that data points often swing wildly based on how often they're collected. "You can end up with averages that don't tell you anything meaningful," GE's Boris says.
These fragmented views make it hard for executives to understand what's happening in production systems or why it's happening. It also means executives need the help of experienced plant personnel, not just more data, to make the right business decisions.
Boris argues against the widely held assumption that getting plant data to the corporate suite is the key to making companies run better. "The view at GE Digital is that the folks who make things every day are the best ones to use and benefit from operations data," he says. "Just connecting data pipes from machines to an enterprise system means you're likely to end up with tons of data that you can't afford to analyze and store."
A better approach, Boris suggests, is to enable machines on the factory floor to communicate and then employ specialized software to begin to understand the variability in production systems. "Most people don't yet know what they need to know or what questions to ask," he says. When it comes to IIoT, in other words, most companies are still in the learning stage and the future is not yet defined.
"Most people think about IIoT implementation from the top of the enterprise down, and we believe that's the wrong approach," says Don Pearson, chief strategy officer at Inductive Automation. "This has to work at the operational level first, and it's not happening as much as people talk about it. Manufacturing is a brownfield world, with billions of pieces of legacy equipment, and corporate executives need to better understand the limitations of plant-floor systems."
Supervisory control and data acquisition (SCADA) systems were not designed to collect and transmit large amounts of data, adds Travis Cox, co-director of sales engineering for Inductive Automation. "They're made to control machines and production processes, not answer questions from corporate. No amount of patching can make SCADA do what it's not meant to do," he says. "To realize the potential of the IIoT, you need to make data a fluid asset that can be accessed at any level in an enterprise. That requires a new communications architecture—using middleware and a publish/subscribe model—to make data available so it can be worked on with apps. This is what IT has been doing for years."
Tim Mitchell, director of water resources for Lynchburg, Va., is seeing how data can be used to improve the city's water, wastewater and storm water systems. "Ease of access to the data, particularly with mobile devices, is giving us earlier warnings and directional guidance when things go wrong." Not only can his team take corrective or preventive actions more quickly, they can also keep city officials and the public better informed when there are issues.
"Our previous SCADA system had one access point in the control room," explains Alvin Rucker, superintendent of regional wastewater treatment in Lynchburg, "making it difficult to provide operational information to managers since it was being used to run the facility."
The municipality employs Inductive Automation's Ignition platform to make access to data quicker at all levels in the organization, using tools that help Jason Hamlin, instrumentation technician, build real-time data screens quickly as information needs change.
"Managers can look at live data remotely without tying up human resources now that licensing costs are no longer an issue," Hamlin says. "While we're still learning what we can do with it, the question sometimes becomes how much is too much data? Now that managers can see everything, for example, we're learning they don't need to see everything."
Leveraging the cloud
As our survey found, cloud-based services are emerging as a cost-effective tool for getting operational intelligence into the hands of both corporate executives and plant management.
Emerson Automation Solutions, for example, uses cloud-based technologies that enable its dedicated in-house experts to remotely monitor customer assets and processes, including control valves, steam traps and machinery.
This subscription service, called Emerson Connected Services, generates actionable, predictive data that customers can use to optimize their operational performance. It uses Microsoft Azure cloud services and data analytics to provide a scalable and secure application environment.
By employing time series trend analysis to generate predictive data, the service helped a major chemical plant in the Gulf area substantially lower its costs for maintaining control valves by eliminating costly, unnecessary preventive maintenance tasks. Emerson also identified a supply pressure issue on a critical control valve, enabling the customer to isolate and repair the valve before it failed and avoid a multi-day plant shutdown and millions of pounds of lost product.
"No matter how good we are at moving data around, the point is to distill it down into an actual diagnosis that leads to a recommended action. That takes expertise around products, processes, critical equipment and a customer's business," explains Peter Zornio, chief strategy officer for Emerson.
Executives want to understand what the data is saying about their business: Are we meeting our commitments to customers? Are we staying within cost constraints? Can we accept this order or not? Are we going to make more money on this or another set of products? Can our employees handle this workload?
Turning raw data into business intelligence takes a fair amount of data manipulation and analysis. "There's no magic technology to do that," Zornio says. "While technology is an enabler, it still requires operational knowledge and an understanding of business objectives. You have to capture and codify domain expertise in the software apps you build. While we can supplement decision-making by providing expert advice, we can't replace the deep knowledge of the plant and business managers who have to take many factors into account when making their decisions."
Changing economics in the oil and gas industry have been driving new acceptance of cloud-based data management for upstream and midstream operations. "Management began to realize just how much it was costing them to maintain their infrastructure," says Gregory Tink, managing partner of data management solutions company Streamline Control Solutions in Calgary, Alberta. "The challenge was to get more data to their executives without using costly tag-based systems."
In addition to controlling costs, growing regulatory, safety and environmental pressures are making it even more important to get data into the hands of the right people without breaking the bank, reports Tink, whose company has been deploying Inductive Automation's Ignition SCADA platform for customers to use as a hub for their data integration efforts. Data is accessed through Microsoft's Azure cloud service.
"New technology, software as a service and other new ways of thinking about data, like using MQTT, makes it easier to move data around to multiple company systems without paying to manage the system or store data in historians," Tink says. "That's important because there's a lot of information outside the SCADA system—from monitoring tanks to detecting leaks in pipelines—that's critical to efficiently managing operations."
Shaping the future
As executives are able to see more information from their plants, they're better able to understand the complexity and health of their manufacturing operations, as well as assess potential risks, notes Matt Newton, director of technical marketing for Opto 22.
"With the adoption of mobile technology, operators and managers are no longer tied to their desks, but that's also generating a lot of concern about network security," he says. "Legacy equipment was never designed for IT-level security. Since anything can eventually be hacked, executives have a new responsibility to find ways to mitigate those risks."
For Rockwell Automation, the focus is less on Big Data and more about analytics, says Beth Parkinson, market development director for The Connected Enterprise. "We need to demystify data and focus on identifying operational patterns, so people can see things in a different way."
Scalable analytics is key, according to Mike Pantaleano, global business manager for Rockwell. "The goal is to create fact-based, data-driven enterprises. This journey is more cultural than technical, one that's still a challenge for most companies. Getting better information about plant operations isn't about burying us in data or even operational benefits, but providing a better context for decision-making," he says. "We need to build a new architecture that allows information to be integrated and shared across an enterprise, one that delivers value at both the plant and executive levels. By using the same data source, but with the ability to see different views of the information, you can drive action and even create new business opportunities. Analytics just become part of the applications they're already doing."
Pradeep Kaushik, product manager for Rockwell, points to a manufacturer that used operational intelligence to identify new patterns. "In one case, they found if they used different materials, located them in closer proximity to operators and changed the layout of their warehouse, they were able to save time in the manufacturing process," he says.
It's important to distinguish between control and operational data, says Stuart Siegel, director of product management for ProSoft Technology. "We've been pulling data out of machines for 30 years, but it's mostly been control data. Now the focus is on operational data. Over the next five years, more service companies will be formed to help manufacturers understand what they're seeing," he says. "The sweet spot we're all aiming for is process optimization, using tools such as predictive maintenance to limit downtime. The corporate level needs to focus on what can be optimized, make sustainable and measurable changes to the organization, and invest based on potential ROI."
Companies in this article