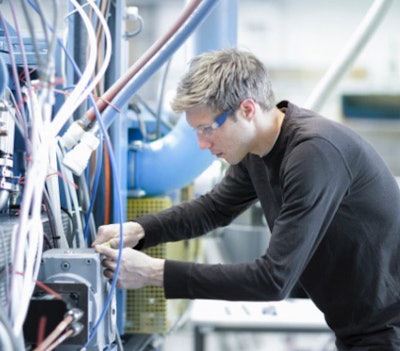 From the 1980s to the early 2000s, many new software technologies, though created to serve distinct industry purposes, were largely new creations. In other words, they were not always built upon pre-existing technologies. As such they often required users to take leaps of faith to become an early adopter. But with more than two decades of modern industrial software technology development behind us, we're beginning to see some of these early technologies playing key roles in emerging technology trends.
A prime example of this can be seen in predictive maintenance. While computing technologies have been leveraged for industrial maintenance applications over many decades now, it was the 1980s and 1990s that brought the first use of computerized maintenance management systems (CMMS) that we would recognize today. And these CMMS technologies have played a critical role in industry's move from reactive maintenance to proactive maintenance.
Now the next step is taking place—from proactive maintenance to condition monitoring and predictive maintenance—and again CMMS remains front and center.
"A best-of-breed CMMS should allow for effective tracking, monitoring and analyzing of data related to all maintenance activities and events that occur on your equipment and assets, including preventive maintenance, corrective and repair work, inspections, calibrations and condition monitoring for predictive maintenance," said Hannelore Fineman, executive vice president and partner at eMaint, a Fluke company.
Explaining how CMMS fits into a condition monitoring and/or proactive maintenance strategy, Fineman said, "A top CMMS solution will support tracking and reporting of condition monitoring data on the equipment and enable work orders to automatically generate when an alarm is triggered from the conditions that are being monitored—such as an increase in temperature or vibration. By using the CMMS to track data related to all maintenance activities that are being performed, the maintenance and reliability teams gain more insight into the overall health of their assets and can make better data-driven decisions to maximize uptime, reduce machine life cycle losses and life cycle costs."
Considering the critical role that CMMS continues to play in the advance of maintenance technologies, I found a presentation by Jeff Werth of eMaint during a recent Fluke Roadshow event in Atlanta to be particularly noteworthy. The title of the presentation was "10 Keys to CMMS Implementation Success."
During his presentation, Werth noted that implementing all 10 steps was not mandatory for CMMS success. However, he said his experience with more than 200 CMMS implementations has proven to him that these steps all constitute best practices.
Here are the 10 keys Werth highlighted:
Implementation Team. The project champion should select a cross-functional team that includes executives for funding, maintenance personnel for managing use of the system and advocating its advantages, project leaders to keep the implementation on track and gather requirements, subject matter experts to define how the system will be used, IT to provide the system environment, implementation consultants to offer specific expertise and, of course, the users. Without user acceptance, use of the CMMS will be minimized and the project could fail.
Core Team Familiarization. To get your internal team members on the same page and aid their understanding of the CMMS and their role in making it a success, Werth suggests having a professional services team provide upfront training to your core team so that this core team can become CMMS experts and future trainers for the rest of your maintenance workforce. The professional services team will "lay the framework to ensure system capabilities are understood," Werth said.
Workflow Processes. Here, Werth highlighted how CMMS should fit into the continuous optimization of your business processes. Begin this step by understanding that current business practices inevitably drive standard operating procedures (SOPs) in your business. These SOPs, and their underlying practices, should be constructed to help drive process improvement. Inserting CMMS workflows into this process provides operational insights that result in new business processes that will, in turn, drive improved SOPs to push improvements forward in a continuously improving workflow process.
SOPs. Given the critical role of standard operating procedures in the Workflow Processes point above, Werth highlighted the principal aspects of SOPs as they apply to CMMS. For example, in defining maintenance coding, Werth said this should include defining work order classes and types as well as work order priorities. Workflow procedures should clarify who is responsible and determine hierarchies related to assets, criticalities and locations.
Prioritize the Implementation. While it may seem obvious, Werth stresses automating the low-hanging fruit first. In doing this, Werth said users should "focus on collecting critical data, leverage experience of a seasoned CMMS implementer, learn from industry colleagues and define an initial implementation timeline."
Configuration. Now that you're getting into the nitty gritty of a CMMS implementation, Werth said to ensure that all the forms, fields, dropdowns and tabled data created for your CMMS should be derived from standards defined during the implementation phase and documented in SOPs. He noted that a key point in doing this correctly requires defining "users of the system" versus "users of data." By making this distinction clear at the configuration stage, you can help "ensure data entry consistency with established data standards," he said. "You need good quality data. All data that goes into the CMMS needs to be maintained and all maintained data needs to go into the system."
Data Population and Validation. Werth noted that using a data collection as a service option helps users with the process of collecting and verifying data in the field and then loading it into a remediation database from which all equipment data, preventive maintenance tasks, historical data, spare parts data, drawings, etc. can then be loaded into the CMMS to create a fully functioning system.
Training Main Users. Referring to an issue raised in the 'Core Team Familiarization' point, Werth again stressed the train-the-trainer philosophy. "Your internal trainer needs to become proficient with the new CMMS at a level higher than that required of the end users" to help ensure their success as a trainer. He added that another key aspect of an internal trainer's success is not just a high level of CMMS understanding, but the possession of soft skills such as communication and organization.
Go Live Strategy. Werth recommends rolling out your CMMS in "bite-sized chunks," which can serve as part of a series of continuous improvement projects. If you are moving to a CMMS from an Excel-based maintenance program, Werth suggest using "soft go-lives" and treating them as "implementation milestones" as you move toward a complete roll out.
Continuous Improvement. The first things to realize with CMMS, Werth said, is that "your CMMS will never be fully implemented." This is because CMMS should be a lynchpin to drive continuous improvement in your maintenance operations which, in turn, will continuously evolve your CMMS. "Use the intelligence from your CMMS to drive decisions and make continuous adjustments," he said. But first, define your metrics for success right from the start and establish a team for a continual review process to keep your continuous improvements efforts on track.
Companies in this article