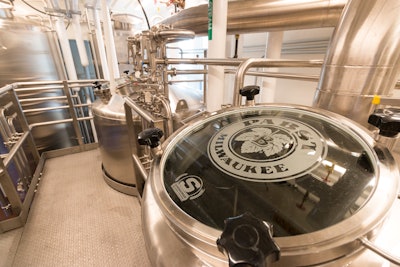 The Pabst Brewing Company announced the opening of Pabst Milwaukee Brewery, the company's first craft brewery. A firkin keg tapping and blue ribbon-cutting ceremony is scheduled for April 13. The brewery's public opening is slated for Friday, April 14 at 11 a.m.
The building features a craft brewery, outdoor beer garden, a mezzanine area and a gastropub-style restaurant serving locally sourced and sustainably produced foods. In addition, the original raised altar area has been converted into a stage to allow for music performances, movie screenings, and various other forms of entertainment throughout the year.
The brewery is located in a historic 144-year old building in the heart of the original Pabst Brewing complex in the former First German Methodist Church at 1037 W. Juneau Avenue. It was purchased by Frederick Pabst in 1896 and used by the Pabst Brewing Company through the 1970s as a Ratskeller, or tavern, for Pabst employees. Pabst will brew exclusive small batch beers on-site, including some Pabst classics from the archives as well as new brews designed by Pabst Master Brewer Greg Deuhs and the Milwaukee Brewery's head brewer John Kimes. The ten initial types of Pabst Milwaukee Brewery draft beers will also be available for off-premise consumption in 32-ounce crowlers.

The brewery will serve as Pabst's hub for innovation and new product ideas, and will help develop the next generation of great beers in the Pabst family. A creative approach to the brewing process and ingredients used will yield unique seasonal and regionally inspired craft beers.

"We have invested in an amazing brewing system where we can use conventional brewing methods but we also have the flexibility to perform varied techniques in each brew cycle, allowing us to create both classical beer styles as well as a new generation of forward-looking craft beers," said Deuhs. "Our goal with our brews is to honor the Pabst legacy while remaining at the forefront of brewing innovation and technology. We are really excited to try new hops and malts from small independent craft maltsters and to offer the people of Milwaukee some truly special beers."

The brewery will have up to eight brewing lines going at a time and a capacity of 4,000 barrels per year. Initial brews offered at the brewery are listed below.
Bier de Mars (March Beer: Northern French Bier de Garde)
Forst-Keller (Zwickel Keller, German Lager)
11th Street Dark Wheat (Dunkelweisse)
Not a Kid Anymore (Maibock)
Sticky Fingers Honey Wheat (American Wheat)
Van Damme Good Tripel (Belgian Tripel)
Noreastie Boys "Northeast" IPA - First in Pabst World IPA Series
Pabst Andeker (Munich Helles first brewed by Pabst in the 1950s)
Old Tankard Ale (American Ale first brewed by Pabst in the 1930s)
Cream City (Oatmeal Stout)