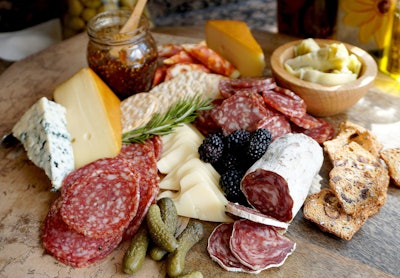 To help meet high customer demand for its products, Columbus Craft Meats announced on Tuesday that it has completed a $16 million expansion at the company's state-of-the-art salami curing facility in Hayward, California. The 10,000 square foot addition increases the company's salami production capacity by 30%. Construction began in February and was commissioned earlier this month.
Columbus finished its last expansion in early 2015. That build-out boosted available production by more than 50% and almost doubled the size of the Hayward facility. However, capacity was quickly filled as Columbus became the most widely distributed meat brand in delis across the United States.*
Similar to 2015, this most recent expansion installed custom, Italian-made equipment to ensure the consistent quality customers have come to expect from Columbus Craft Meats.
The facility also continues to maintain food safety as its highest priority. For the last four years, the company's salami curing plant has earned an A or AA rating – the highest rating given – by the British Retail Consortium (BRC), an independent organization that sets the standard for global food safety.
*Fastest growing brand of the top 30 brands: Nielsen, Total US, 26 weeks ending 7/1/17, $ Sales % change versus year ago, Total Deli (Including Specialty Meat & Cheese)