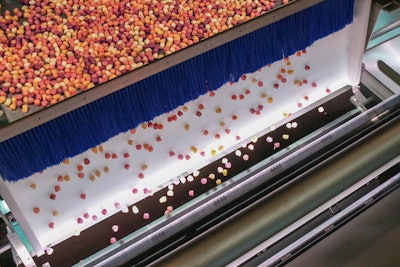 Built to sort oil-coated, sugar-coated, yogurt-coated and vitamin-enhanced gummy candies, the Key Technology VERYX digital sorter for gummy candies detects color defects, such as mixed-color gummies; shape defects, including clumps, conjoined gummies, malformed gummies and mold spills; and structural properties to find gummies with bits of remaining starch. Equipped with front- and rear-mounted cameras, laser scanners and multi-sensor detection modules, the sorter views all sides of the product and performs contour-based and/or centroid-based calculations to target ejectors at the object's center of mass to ensure foreign material and defect removal.
Companies in this article
Videos from Key Technology, Inc.