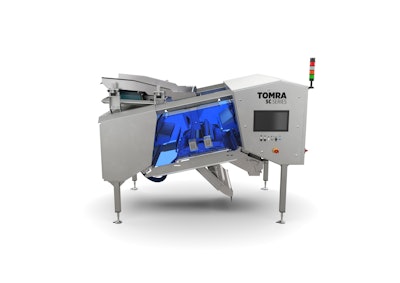 TOMRA Food–a company that designs and manufactures sensor-based sorting machines and integrated post-harvest solutions for the food industry–is displaying its TOMRA 5C premium optical sorter, its next generation of free-fall sorting equipment, which is made to help nut processors ensure food safety, meet customer product specifications, and face growing demand by reducing food waste and improving efficiencies.
"What we've really focused on in designing this machine is providing the customer with high yield, high efficiency, easy sanitation, and the next generation of big data," says Parker Fales, area sales manager, TOMRA Food.
The TOMRA 5C combines sensors with machine learning and big-data analysis to ensure as accurate foreign material removal as possible. With the machine, operators are able to view a clear picture of each product and foreign material, which in turn sets processors up to make real-time decisions that boost chances of a better profit, higher-quality yield, and fast equipment payback.
The sorter can also examine mass quantities of nuts and dried fruit while detecting very small imperfections, such as insect damage, mold, brown spot, shrivel, rancidity, allergens, embedded shell, and water and oil content with its high resolution lasers, which also allow clearer visualization and more precise color sorting.
Additional benefits include:
Simple clean-up and maintenance
Biometric Signature Identification (BSI+) scanners, which scan materials with both near-infrared (NIR) and visible spectrum wavelengths
TOMRA Insight, the cloud-based data analysis platform connected to the TOMRA 5C, allows processors to access actionable data that can be used to make informed business decisions. This integrated data platform allows for improved output, greater efficiency, more uptime, and enhanced troubleshooting.
Companies in this article