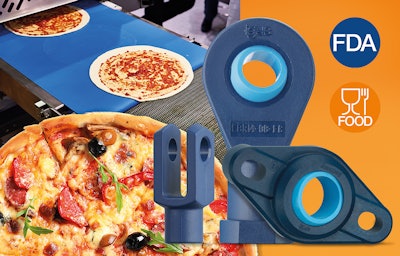 The igus igubal food contact (FC) joint system contains a spherical ball made of igus high-performance plastic iglide A181. The new material is self-lubricating, maintenance free, and FDA and EU 10/2011 compliant.
"Thanks to a new material composition, the spherical ball moves on stainless steel shafts, and the ball is up to three times more wear resistant than the previous FC180 version," says Dennis Steffen, product manager of igubal spherical plain bearings at igus. "This makes movements in the machine even more reliable and safe."
The igubal FC joint system with the new A181 spherical ball improves the hygiene of machinery and equipment in the food industry. Unlike metal bearings, there is no need for an external lubricant that could combine with dirt and dust to form sticky coatings and become a risk of contamination.
Instead, igus integrates a solid lubricant into its material, which enables low-friction and hygienic dry running. As a result, the housing and the new spherical ball material are FDA and EU 10/2011 compliant.
To further improve hygiene and facilitate inspection, both the bearing housing and the spherical ball are colored blue. Blue is used to quickly identify food residues and mold spores during cleaning and inspections and helps visual detection in the event of machine damage.
In addition, food-grade, detectable additives are also integrated into the housing material. In an emergency, they make it possible for metal detectors to detect even the tiniest splinters in the range of a tenth of a gram.
Companies in this article