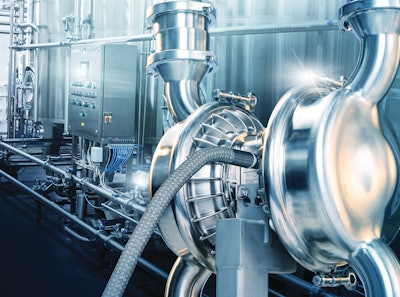 Photo courtesy of PSG
Food and beverage processors are being challenged by labor shortages, the threat of product recalls or losses due to contamination, and the growing demand for sustainable operations. As a result, the selection criteria are changing for the pumps and valves that are ubiquitous in nearly every processing plant.
Suppliers are evolving their products to meet these demands, with new designs that require fewer skills to operate and maintain them, can be cleaned more thoroughly, and consume less water and energy.
"All of these market challenges, like the huge workforce reductions that came with the COVID-19 pandemic, are forcing processors to do more with less," explains Michael David, manager of pump and heat exchange solutions for Central States Industrial (CSI). Though CSI doesn't make pumps or valves itself, it acts as a distributor and provides installation and engineering services to the food and beverage industry. "Frankly, we're seeing a slowdown in the uptake of new technology. Companies want to get more out of the technology they already have, and that means learning how to optimize their processes. They're also trying to compensate for the labor they can't get by replacing existing technology with pumps that are easier to maintain, can be cleaned automatically and faster, and can handle different product viscosities on the same production line."
---
---
No matter what types of pumps or valves they choose, the primary goals for processors continue to be increased productivity and reduced downtime and operating costs. The difficulty in finding skilled workers is one reason for the continuing adoption of remote monitoring technologies that can alert operators before components fail.
Moving to electric
Graco has made significant advances with its pump lineup in an effort to provide the equipment capabilities that processors are demanding. "We've primarily produced pumps operated with pneumatics, but we're now moving to electric products that reduce energy consumption and enable us to provide smarter controls as well as condition monitoring tools to deliver the feedback necessary for preventive and predictive maintenance," explains Jeffrey Shaffer, senior product manager and North American sales manager for Graco's Process division.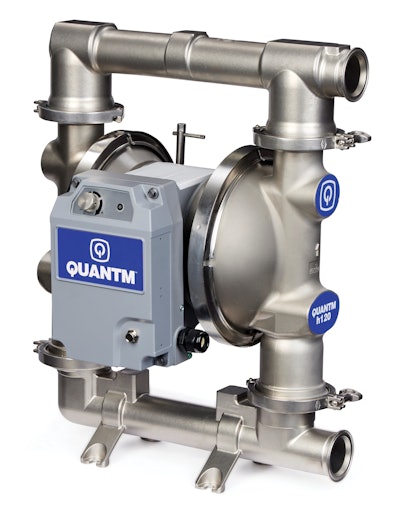 The company is introducing an entirely electric line of diaphragm pumps, the Quantm series, in the fourth quarter of this year. "This is an important technology breakthrough," Shaffer says. "Until now, electric diaphragm pumps were big, bulky, and much more expensive than their pneumatic counterparts. These new products are as easy to service as existing Graco pumps but will greatly reduce operational costs for end users and contribute to a smarter, more sustainable facility."
A candy and energy bar maker is using Graco's new electric pumps to achieve better control of its production processes, which is saving on ingredients, according to Shaffer. "While the pump's initial cost is higher, the lifetime costs will be significantly lower because it uses less energy than the pneumatic pumps," he says. "It's also quieter for an improved working environment. In addition, the improved control and remote monitoring capabilities mean it requires less hands-on worker involvement for maintenance if connected to a control system."
Less maintenance
Condition monitoring is proving to be an effective tool for reducing both downtime and maintenance costs. By enabling maintenance staff to focus on tasks that prevent unplanned equipment failures, companies can significantly reduce the time and expense of routine maintenance activities that ultimately deliver little value.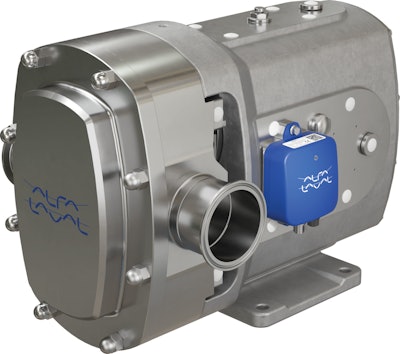 A new subscription-based condition monitoring and cloud gateway service introduced by Alfa Laval detects machine vibrations and other operating information, providing an early warning of potential equipment failure. It gives plant operators remote access to data from pumps and other rotating equipment on processing lines, including actual runtime, trend analysis, and time to next service.
Acting as a gateway communicating via Bluetooth, CM Connect can link up to 10 Alfa Laval CM wireless vibration monitors and transmit the data to the cloud for review and analysis, so operators can make informed maintenance decisions. Advanced vibration analysis enables early detection of any deviation from pre-set equipment threshold values.
Fewer resources, less waste
Reducing resource consumption and the related waste from production and cleaning processes has become a priority, particularly among multinational corporations that have made a commitment to achieving sustainability goals, according to Jim LeClair, fluid handling commercial manager for Alfa Laval.
---
---
"Pumps make up over 50% of a typical processing plant's energy costs," he explains, "so customers are demanding products that use less energy and produce fewer CO2 emissions. Many companies are also committing to zero waste goals, so they want water-efficient pumps, valves, and cleaning processes that produce less waste. Alfa Laval, for example, offers valves that use significantly less water to accommodate these requirements."
The company also recently launched a refreshed version of the Alfa Laval ThinkTop, its valve sensing and control unit for hygienic valves used in the dairy, food, beverage, brewery, and pharmaceutical industries. This second-generation control unit offers fast and intuitive setup and commissioning and provides operators with enhanced 360-degree LED visual status indication.
The redesign repositions the Gore Vent for greater durability and less risk of water ingress. The more compact design features burst seat cleaning functionality that significantly reduces water and cleaning agent consumption during clean in process (CIP). A QR code provides easy online access for maintenance staff to support materials and direct support. The ThinkTop fits on any Alfa Laval valve, making retrofits easier.
The war in Ukraine, high inflation, and climate concerns are having an economic impact on processors, changing priorities for product specification in both Europe and the U.S. "We've seen a higher level of focus on automation to increase efficiency standards to compensate for these effects," says Russell Jones, commercial sales manager for pumps at Alfa Laval.
Better cleaning, fewer risks
"Manufacturers are doing everything possible to avoid product recalls or losses," says Tom Zuckett, Americas Northeast regional sales manager for PSG, a Dover company. "That's why we've designed our Wilden Saniflo Hygienic Series air-operated double-diaphragm (AODD) pumps to be highly cleanable and drainable."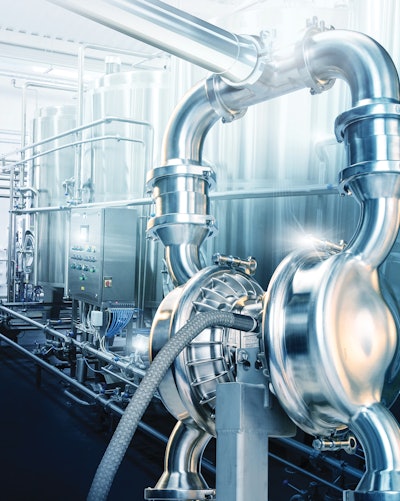 A free-draining flow path enables CIP capability. "Additionally, when equipped with Wilden's Pure-Fuse integral pistol diaphragm technology, the common bacteria trap in standard diaphragms is eliminated," Zuckett says. "Pure-Fuse diaphragms are also much easier to clean between product changeovers and have a much longer service life. Because the diaphragm doesn't hold back fluids, bacteria traps are eliminated."
The AODD pumps also help in production environments commonly manned by new operators, Zuckett points out. "These operators have fewer skills, so air-operated systems are easier for them; they're more forgiving," he says.
Energy efficiency is also a factor for the Wilden Saniflo Hygienic Series pumps. An innovative air distribution system reduces compressed air costs by up to 60%, Zuckett notes.
While centrifugal pumps are the most widely used in the food and beverage industry, Zuckett says, rotary style positive displacement pumps come in second. "Their drawback is that they need to be taken apart to be cleaned," he says. "That's one reason why twin-screw pumps, which can be cleaned in place, are increasingly popular. Since motor speed can be controlled with a variable-frequency drive, processors don't need to buy a second pump to produce the higher speeds required for the cleaning process."
AODD pumps are earning a growing share of the marketplace. This style of pump offers gentle handling and can handle large solids, such as found in the making of wine, yogurt, or jams, or in the viscous syrups used for soft drinks and energy drinks.
Helping hand for labor
Labor shortages continue to trouble every industry sector, and this factors heavily in cleaning and maintenance of pumps, notes Chris Stevens, CEO of Unibloc Hygienic Technologies. "Sanitation and maintenance demand a significant amount of time and attention," he explains. "Within a meat and poultry processing plant, for example, an entire eight-hour shift is typically devoted to cleaning and sanitation. During this shift, pumps must be disassembled, cleaned and then reassembled, with the goal of accomplishing this process as quickly, safely, and efficiently as possible."
This complex cleaning and maintenance cycle requires specialized tools and causes significant wear and tear on the pump, causing up to 95% of all pump damage. Parts can be lost or pumps damaged due to incorrect reassembly, which in turn results in the need for more replacement parts and extra maintenance.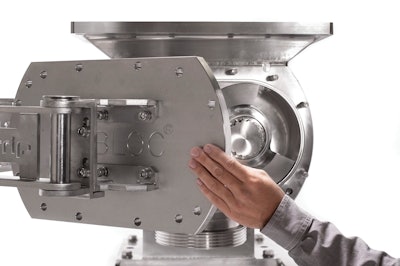 "This makes it a priority for the pump and valve industry to consider both pump maintenance and performance to be critical design factors," Stevens says. "A pump with fewer parts makes the entire process of disassembly, cleaning, and reassembly easier and quicker without ignoring performance and while adhering to the highest sanitation standards."
He points to Unibloc's Flotronic "One Nut" pump as one example. "While a typical air operated double diaphragm pump will take two to three hours to disassemble, clean, and put back together, an operator can complete the same process on a one-nut pump, which has one bolt and one washer, in 15 minutes or less," he says. "Reassembly is a simple process and requires no special tools. This means fewer parts to potentially lose or misplace, fewer challenges for the labor force, and a much swifter cleaning process without sacrificing performance or sanitation."
Other Unibloc pumps designed for ease of cleaning include the compact Flotronic Slimline, which is effective in the transfer of highly viscous products such as dairy and mayonnaise. It features a crevice-free design with no internal welding to help facilitate thorough cleaning. A Texas-based salsa manufacturer, Stevens notes, found that a Slimline stainless-steel pump was able to save them an hour of time in the daily sanitation process compared to an AODD pump.
More sanitary pumps
Verder Hygienic Pumps makes a wide range of pump types, including high-efficiency centrifugal, twin screw, and peristaltic pumps. "Many fruit and vegetable processors are switching to sanitary style pumps in applications where previously a less hygienic pump or conveyor was always used," explains Michael O'Grady, hygienic sales manager.
Though pumps might be a wise choice for these processors due to the high maintenance costs of conveyors, some were choosing inefficient pumps, O'Grady notes. In some cases, pumps were made of cast iron, which is not compatible with some of the acids released in the cutting process. Even pet food processors are switching to sanitary pumps from the less expensive industrial pumps they used in the past, he adds.
Manufacturers continue to make more pumps using the food-grade materials necessary for food and beverage applications. Verder's twin screw Packo Fruit & Vegetable pumps, which are used for processing large particulates such as fruits, vegetables, shellfish, and pasta, are one example.
"Due to their efficiency, they can pump whole fruits and vegetables like limes or potatoes without damaging them," O'Grady says. "They're also electro-polished, enhancing their CIP-ability." The company's Verderflex line of peristaltic pumps are also made with food-grade materials, with processors finding them a low-cost alternative to lobe and screw pumps.
Ideal for batches
Fristam Pumps USA has seen an increase in demand for pumps in prepared food applications such as sauces, condiments, soups, or canned foods, according to Hannah Ihlenfeldt, bilingual applications engineer for the supplier. "Maybe it's a result of the pandemic, which had more people eating at home and shopping at grocery stores instead of eating out," she says.
Fristam's recently developed line of FDS twin screw pumps fits well with this type of application. "Especially in plants which use batch processing, the FDS is very useful, since it can pump products with different viscosities and densities on the same processing line," Ihlenfeldt says. "Another advantage is its gentle handling of product, such as soup with chunks of vegetables or fruit in a juice cocktail."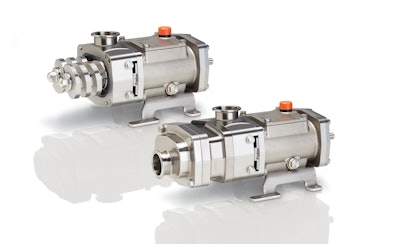 She points to one FDS customer using them on their soup cookers, where they can handle thicker cheese-based soups, as well as thin broths and food pieces. "This type of pump can also be used for CIP, eliminating the need for extra pumps and valves."
Companies in this article
Videos from Central States Industrial (CSI)