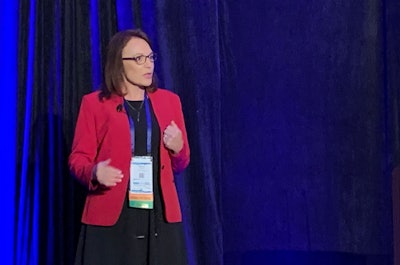 Coca-Cola is an iconic brand—a well-recognized taste in a well-recognized bottle. But when The Coca-Cola Co. aims to make a change to the norms of operation, it's thinking not only about its flagship beverage and all its variations, but a full range of waters, sparkling beverages, hydration and sports drinks, dairy and plant-based beverages, juices, coffees, teas…
"We have to take all of that into account when building a sustainability plan," said Cloeann Durham, vice president of quality, safety, and environment for Coca-Cola's North American Operating Unit. She was speaking to the audience at ISBT's BevTech meeting in Frisco, Texas. Though Coca-Cola's brands are positioned to grow, sustainability is equally important, she noted. "Seeing volume growth is great. But seeing volume growth without sustainability—it can outrun you really fast."
The sustainability priorities themselves make up no short list either: helping solve the global packaging waste crisis, reducing carbon footprint through science-based targets while building resilience for climate events now and in the future, increasing water security for operations, protecting communities and nature, reducing added sugar across the portfolio while providing consumers with more choices and smaller packaging options, growing a more sustainable supply chain, advancing women and diversity, and supporting human rights.
Coca-Cola has passed several of its environmental, social, and governance (ESG) goals and is working toward plans that include 2025 packaging goals, a 2030 climate goal, a new 2030 water strategy, and a streamlined global beverage portfolio. In all of this, having support from the top has been vital. "We have the commitment at the highest level in our company," Durham says, pointing to James Quincey, chairman and CEO.
Transparency to consumers
Transparency—publicly reported sustainability goals as well as accountability on those results—has been instrumental in driving Coca-Cola to continuously improve, Durham noted. The beverage industry has shifted considerably over the years. It's no longer enough to put together a feel-good TV ad to convince consumers. "Data is all you really have to tell your story," she says of today's expectations. "Science-based targeting is offering a different level of transparency."
Coca-Cola's sustainable business priorities cross a broad spectrum, but Durham dove a bit deeper into several areas. A significant effort is its World Without Waste initiative, which looks primarily at packaging and how to drive a circular economy to help reduce the carbon footprint of that package.
One leg of the initiative focuses on the design of the bottle. Coca-Cola has a goal to make 100% of its packaging recyclable by 2025 and use at least 50% recycled material in its packaging by 2030. The label is a big piece of that discussion, Durham commented, because not all labels are recyclable. To date, 90% of the company's packaging is recyclable globally, and it uses 23% recycled material. About 30 markets offer at least one brand in 100% recycled PET packaging, and four markets use 100% recycled PET for their entire plastic packaging portfolio, she added.
---
---
The company also has a new reuse goal for its brand: By 2030, the aim is to have at least 25% of its beverages worldwide by volume sold in refillable or returnable glass or plastic bottles or in fountain dispensers with reusable packaging.
Another leg of this initiative is focused on the recycling efforts themselves. Much of this hinges on educating consumers about how to recycle—not an easy task when the situation in the U.S., for example, is so fluid across the 50 states. "I go from on city to the next, within 5 miles of each other, and the recycling campaign is so vividly different," Durham commented.
By 2030, Coca-Cola has a goal to collect and recycle a bottle or can for each one it sells. So far, 61% of the equivalent cans or bottles that the company introduced into the market in 2021 were refilled, collected, or recycled.
Well aware of how climate changes directly impact its operations around the world, Coca-Cola aims to reduce absolute greenhouse gas (GHG) emissions 25% by 2030. This is where science-based targeting really comes into play, and there's been a big shift in how industry now talks about its climate goals, Durham said. "To be really effective, we have to measure differently," she said. "Science based targeting really has to open you up to a vast new metric. It requires so many pieces from all of your partners."
Protecting water resources
Just as Coca-Cola aims to reduce its carbon footprint, it's also working to reduce its water footprint. This is a big deal for a company whose products are so largely based on water. The 2030 Water Security Strategy focuses on increasing water security through a context-based approach to water replenishment, advocacy for smart water policies, and responsible water use through all operations and the supply chain.
---
---
A huge part of this is improved agricultural management because 92% of Coca-Cola's blue water use—the surface and groundwater consumed as a result of producing the produce—comes from within its agriculture supply chain. Working to grow a more sustainable supply chain, 58% of Coca-Cola's priority ingredients volume was sourced sustainably in 2021. The ultimate goal is 100%.
"We need to make sure we're not negatively affecting the system," Durham said. "We're on a path to be 100%. I feel positive about that, but the conversations need to be ongoing."
The industry is fighting an uphill battle against previous complacency. "We are so behind, folks. We've had opportunities to innovate, and we didn't take them because it didn't seem necessary," she said. "We need to make sure we get ahead of those issues so we're not negatively impacting sustainability."
Coca-Cola is working on these initiatives together with its nearly 225 bottling partners in more than 200 countries and territories. Though the beverage giant has vast resources available to it for these kinds of sustainability efforts, and tackling such global issues might seem overwhelming to many, Durham urged audience members to think differently. "Don't pay so much attention to the numbers, but how you participate," she said, adding, "We're all driving the industry. How do we do that together?"
Companies in this article