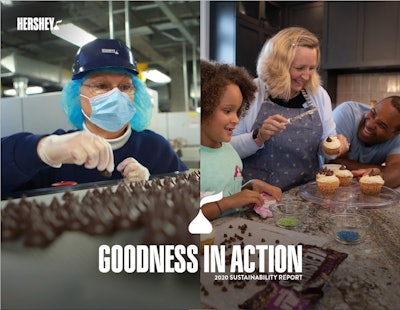 The Hershey Company has released its 2020 Sustainability Report, highlighting its progress on key environmental and social initiatives during the past year. The report reviews the company's holistic sustainability strategy — known as its Shared Goodness Promise — which includes initiatives across the enterprise and value chain, such as responsible sourcing, respecting human rights, climate action, employee well-being, diversity, equity and inclusion, and community engagement.
---
---
Notable milestones highlighted in the 2020 Sustainability Report include:
Sourcing Cocoa Responsibly: In 2020, Hershey achieved its 100% certified and sustainable cocoa commitment made in 2011 and further committed to 100% direct sourcing of all cocoa from Cote d'Ivoire and Ghana by 2025, enabling the company to have greater visibility and impact into where and how its cocoa is grown. Through its Cocoa For Good strategy, Hershey will continue its focus on supporting cocoa farmers and their families to be able to live healthy, prosperous lives in thriving ecosystems.
Strengthening Climate Action: Hershey set science-based targets to reduce absolute greenhouse gas emissions by more than 50% across Scope 1 and 2, and 25% across Scope 3 by 2030, compared to 2018. The company is pursuing to deliver these goals, including the development of renewable energy, investing in energy efficiency, improving the environmental sustainability of its packaging, working to stop land-use change in the agriculture production of ingredients, and harnessing the passion of its employees on sustainability through new Green Teams that were launched during the year.
Advancing Diversity, Equity, and Inclusion: Hershey accelerated its focus on diversity, equity, and inclusion with a refreshed enterprise inclusion strategy, new trainings, educational and career development resources for employees, and a $1.5 million investment in the Thurgood Marshall College Fund to provide scholarships for underrepresented populations. In 2020, the company achieved 1:1 aggregate gender pay equity, and by early 2021, it achieved 1:1 aggregate pay equity for salaried people of color in the United States.
Companies in this article