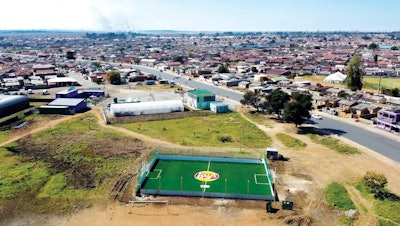 Through its RePlay global initiative, Lay's, a part of PepsiCo's product portfolio, is partnering with the Union of European Football Associations (UEFA) Foundation for children and streetfootballworld, an organization that maximizes the power of football for good, to reuse empty chip packs to help create sustainable football pitches, uniting communities and driving positive outcomes for people and the planet.
Lay's RePlay pitches maximize social value, while minimizing environmental impact. In partnership with GreenFields, a global artificial pitch manufacturer, empty Lay's chip packets are collected from local waste and recycling partnerships and given a second life—shredded and converted into pellets that form the underlying layer beneath the turf, called Ecocept™. Both the turf and Ecocept layer are 100% recyclable at the end of their life span. Beyond the turf, Lay's has committed to adopt a carbon compensation strategy that will ensure all pitches deliver a net zero carbon footprint over their life spans of an estimated 10 years.
This global initiative and commitment by Lay's has been verified by independent consultancy, Good Business, with an in-depth study finding that Lay's RePlay pitches have a significantly lower environmental impact than alternative artificial pitches across several areas, including reduced greenhouse gas emissions, microplastic pollution, recyclable material and turf, ecological disturbance, and water usage.
---
---
Sebnem Erim, VP, marketing, global foods, PepsiCo says, "Providing people with joy one chip and one bag at a time is at the heart of our brand. Building upon decades of experience bringing people together with the game, we are proud to introduce Lay's RePlay. More than just a planet positive pitch, we are working with local partners to build spaces and programs that can deliver positive impact and change for generations to come."
Up to five Lay's RePlay football pitches are expected to open in 2021 around the world, with the first in Tembisa, South Africa, followed by communities in Russia, Brazil, Turkey, and the U.K. With the potential of more than 3,600 hours of play and educational-sporting programs benefiting over 16,000 members of the community in the first year alone, Lay's RePlay places strong emphasis on including community members and local organizations throughout the planning, construction, and maintenance phases of each pitch, with the goal to develop programming that can address social issues impacting each community, while fostering safe access to the sport.