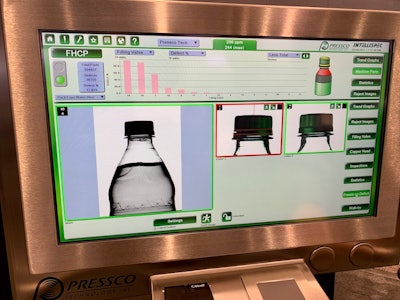 Michael Costa
Pressco Technology showcased its filling line and high-speed vision inspection solutions at PACK EXPO International in Chicago. Pressco's INTELLISPEC platform provides a comprehensive set of modular solutions for high-performance filling lines. Pressco systems are designed to be integrated into various blow-molders, fillers, cap feeders, and labelers.
"This is an entire manufacturing process right here," says Michael Coy, director of marketing, Pressco Technology. "Most companies that do vision systems only focus on one part of that process. We're up and down the line, we're everywhere. We have a modular approach, so even with all those operations in your factory, you can have one inspection system, and you only need to learn one software and train your staff once. It's a single control point for all those inspections, so it's a much more efficient way to operate."
Coy adds that Pressco's systems not only collect inspection information on each part inspected, but correlate that data back to the specific machine component which is causing the defect. This minimizes troubleshooting time, improves machine uptime, and reduces scrap.
"Our machine uses multiple cameras, so we can look all the way around a bottle closure and make sure that the closure is on correctly," Coy says. "That's really important for the bottling companies, because if it's not on correctly or if it's crooked or too high, that's a problem, especially for carbonated beverages."
Companies in this article