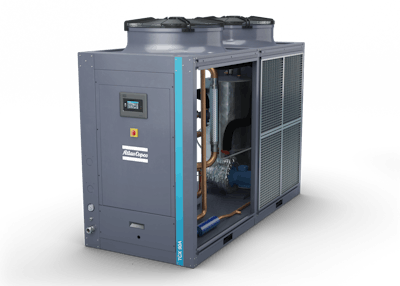 Atlas Copco
Atlas Copco Compressors has a strong history in compressed air, and innovation in that area will always be a strong focus, says Paul Humphreys, vice president of communications and branding. But at PACK EXPO International 2022 in Chicago, the supplier was debuting some capabilities beyond compressors, demonstrating innovations in process filtration and chillers. "We're getting away from the compressor room and going more downstream," Humphreys said.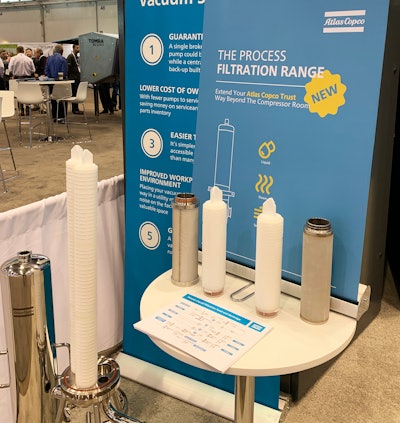 The process filtration range—focused on liquid, steam, and air—extends Atlas Copco's filter product portfolio into multiple industries, including food and beverage, microelectronics, pharmaceutical, cosmetics, and chemical. The filter range, which exceeds ISO 8573-1 Class 0 requirements, is designed to prevent microbial contamination and protect the quality of the final product. All components meet the EU and U.S. requirements for food contact use in accordance with FDA CFR Title 21 and with EU Regulation No. 1935/2004 and its subsequent amendments.
The range includes bags, filters, and cartridges. The complete cartridge range comprises unit construction from melt blown fiber and pleated fiber for particle removal, and pleated membrane for bioburden reduction. The cartridge range includes powder sintered filters for steam and gases as well as pleated filters for high-temperature and corrosive liquid applications. Carbon powder sintered filters and carbon rolled felt filters are also available for chlorine, odor, and color removal processes. The product range is completed with polypropylene, polyester, and nylon bag filters.
Atlas Copco's process filtration offering also provides a wide selection of housings, including sanitary housings for food and pharmaceutical applications involving liquid, gas, or venting processes. These are available in single- or multi-cartridge configurations.
Process chiller innovations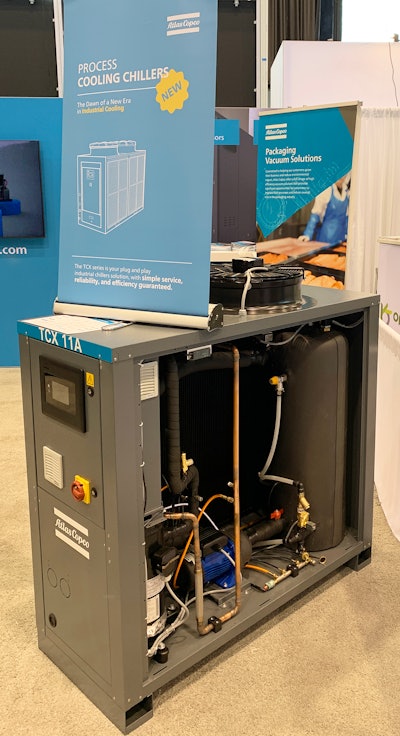 Many of Atlas Copco's latest innovations come from recent acquisitions, Humphreys noted, and its TCX 4-90A Process Cooling Chiller range is one such example. Atlas Copco entered the industrial cooling market with its acquisition of Italian supplier Eurochiller in mid-2019.
The TCX range features a compact, all-in-one water chiller with an air-cooled condenser and integrated hydro module, with units available in a variety of sizes. The chillers are specifically designed to cool water (or a mixture of water and glycol) for a wide range of industrial segments. The TCX range's state-of-the-art microchannel condensers require 30% less refrigerant, making the units more environmentally friendly while lowering potential maintenance charges over the life of the chiller.
The process chillers feature a touchscreen controller, the Elektronikon Mk5 Touch controller. Smartlink 24/7 monitoring is also available as part of the chiller's total package. This enables Atlas Copco not only to log in to help maintain and troubleshoot the equipment, but also to trend performance over time, Humphreys commented. The TCX range can also be covered on a service contract, along with all other Atlas Copco mechanical equipment, such as air compressors, dryers, nitrogen generation systems and low-pressure blowers.
Companies in this article