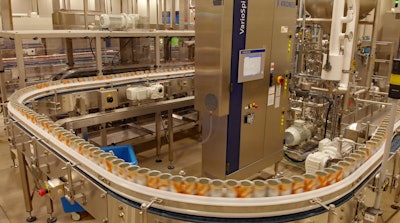 In our April 2022 issue, Aaron Hand detailed how Rockwell Automation's PlantPAX control system enabled greater operator efficiency, real-time troubleshooting, simplified data analysis, and increased manufacturing flexibility, among other improvements, in Amway's energy drink operation.
Depending on your age, you might remember Amway as a multi-level seller of cleaning supplies and other household goods. The company has expanded in several different directions since its beginnings, including personal care products, cookware, vitamins and supplements, and more. One of Amway's newest products is its XS brand of energy drinks. Marketed as a blast of energy without sugar or carbs, XS is a blend of premium ingredients, herbs, and B vitamins.
With the market for functional beverages skyrocketing, Amway's plant in Ada, Mich., was in desperate need of increased production capabilities. Amway had previously had the XS energy drink co-manufactured but decided to bring production in-house to improve production efficiency and cost structure. The company made a $15 million investment in its 100-acre campus in Ada—not only to provide the ability to boost production and enable further expansion in the future, but also to install the kinds of flexible systems that would accommodate a range of recipes.
Continue to the full article:
Amway's Energy Drink Meets Skyrocketing Demand Through Digital Thread