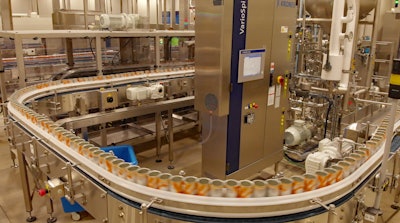 Photo courtesy of Rockwell Automation
Depending on your age, you might remember Amway as a multi-level seller of cleaning supplies and other household goods. The company has expanded in several different directions since its beginnings, including personal care products, cookware, vitamins and supplements, and more.
One of Amway's newest products is its XS brand of energy drinks. Marketed as a blast of energy without sugar or carbs, XS is a blend of premium ingredients, herbs, and B vitamins.
XS energy drinks were originally developed by two Amway independent business owners (IBOs) in 2002. A year later, Amway became the exclusive distributor, and XS quickly became Amway's No. 1 seller. Amway acquired the brand outright in 2015 and has since tripled the XS business.
Since then, the market for functional beverage has only continued to grow. The market was already on the rise, but that took off even further once the pandemic began. Lockdowns not only were a time to explore new foods and beverages, but also health was top of mind. Energy drinks make up the largest share of the U.S. functional beverage market at an estimated $18.6 billion, according to Euromonitor, and their popularity continues to escalate.
---
---
What this all meant to Amway and its plant in Ada, Mich., was that it was in desperate need of increased production capabilities. Amway had previously had the XS energy drink co-manufactured, but decided to bring production in-house to improve production efficiency and cost structure. The company made a $15 million investment in its 100-acre campus in Ada—not only to provide the ability to boost production and enable further expansion in the future, but also to install the kinds of flexible systems that would accommodate a range of recipes.
Formerly making liquid soaps not only for its own brands but co-manufacturing for several other big industry names as well, Amway was looking to get out of contract manufacturing, according to Rob Dargie, senior electrical engineer for Amway. The idea, then, was to use that plant for the new XS production. "We closed the liquids plant. It was one of the older plants, and we completely gutted that thing," he says. "So it really was a greenfield plant then."
Finding the digital thread
Amway has been on a digital transformation journey for more than five years, Dargie notes. He began by overhauling the control network, which was dominated by a range of proprietary legacy networks that did not communicate well with one another. "Since then, we started building the Ethernet structure and then some bridge connections to those legacy communications," he says.
They began pulling more information from the systems, but it was challenging to seamlessly connect legacy IT systems and homegrown manufacturing systems to create the digital thread. They needed a control system that could bring it all together, enabling continuous data flow to improve and optimize operations.
Amway turned to Rockwell Automation and its PlantPAx modern distributed control system (DCS) to get the job done. The system will help the manufacturer collaborate in real time across the value chain, validating new lines and processes virtually, simplifying data analysis and increasing manufacturing flexibility. As Amway integrates the solution into its product lifecycle management, it will achieve better connectivity across its supply chain as well.
Though Amway engineers had no experience with the PlantPAx DCS, they had years of experience with Rockwell Automation controllers and ControlLogix and trusted PlantPAx to meet the new demands. Amway specified the Rockwell system not only for the processing side of the plant but for its Krones packaging line as well. Being able to apply one control and information system across all processes helped to improve capacity and product quality, save energy and raw materials, and reduce process variations and human intervention.
The team used modern batch control strategies to support flexible production needs and standardize company procedures while accelerating product and process development. The system's standard methodologies, process libraries, and reusable code meant better equipment utilization and improved quality, visibility, and access to actionable data.
Dargie makes note of the mixproof valve manifold technology that Amway incorporated into the new XS plant, raving about the streamlined operation and the elimination of hoses. "This is a brand new technology when it comes to piping or control," he comments. "But the PlantPAx system already had that stuff in the programming software. So it was very easy to program."
Easier troubleshooting
PlantPAx has also made troubleshooting easier and faster. With the sprawling campus that Amway has—multiple production buildings and a maintenance operation spread across facilities—it can take 10 minutes for a technician to physically get to a machine. Real-time troubleshooting has made it easier for operators to be more self-reliant.
"With a lot of the troubleshooting before, you'd have to call an electrician to come out, get into the PLC, and find out what's wrong. With PlantPAx, most of the troubleshooting is right on the HMI," Dargie says. "It's been very rare cases that I've ever heard of an electrician being called out to figure something out."
More than a few times during the pandemic, the system was able to run with a single employee at the controls. "Once operators spent some time with the new system and realized the power of the PlantPAx DCS, their confidence grew both in the system and in their own capabilities, and they became more agile and self-supporting," Dargie says. "They appreciated the simplified troubleshooting and commonality between systems."
In terms of application development, at different times Amway had five engineers working on the project simultaneously. Having a server-based system allowed the team to work together; the library of process objects ensured they had a common methodology, and the faceplates provided a consistent look and feel.
Installation through COVID lockdowns
The initial onset of the COVID-19 pandemic added some complexity to an already aggressive schedule of extensive upgrades. "It was 2019 and we did the FATs for the packaging line in Germany—way ahead of schedule, at the end of September, into October," Dargie recalls. "The equipment and tanks started arriving in January. We were getting ready for installation by the end of February, into March."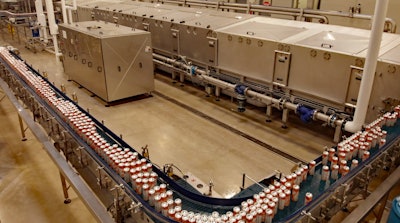 It was the middle of March 2020 that lockdowns began—and that Dargie got COVID himself. "It kind of threw the whole project into a frenzy," he recalls. And yet the project remained on schedule, with everybody plugging away during lockdown. "We had actually planned for August to be up and running, and we made our first product run in July."
Dargie was amazed at how well everything went, hearing very little about any difficulties along the way. "What kept us on schedule was the fact that everything we were doing was part of a standard process; we didn't need to write our own code. That would have added six months to the process and opened us up for errors," he says. "We got to market as quickly as we did with zero downtime and no setbacks because everything operated as promised."
All in all, Amway is enjoying smoother production, higher quality, greater operator efficiency, real-time troubleshooting and almost lights out automation, according to Dargie. "Our performance is off the charts compared to anything we've achieved in the past," he says. "We flipped the switch and it just worked."
Companies in this article