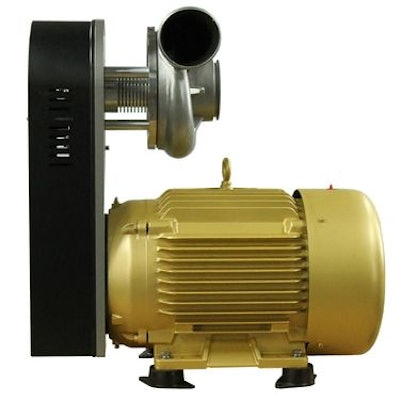 Today, showcased by Republic Manufacturing was their new RBX High-Efficiency Centrifugal Blower product line at PACK EXPO Connects–live, virtual packaging trade show.
The RBX Centrifugal Blower line is designed for efficiency, endurance, and optimal performance in high-demand pressure and vacuum applications. The line is made to generate flow up to 2,600 cfm and pressure greater than 100 in.H2O while attaining 80% peak efficiencies and up to 7-8 times more bearing life. RBX blowers are used for drying applications, pick and place, debris removal, leveling coatings, and vacuum hold down. It can handle a broad array of duty cycles as well.
The RBX impeller is created with cutting edge software. It, along with the volute and bearing housing assembly, work together to allow the blower to conserve energy while optimizing air flow and lowering temperatures through the use of smaller motors and wires. This design is meant to allow the blower to achieve higher pressure utilizing less horsepower.
The company explains that the blower has permanently greased bearings to reduce maintenance, and with the decreased temperature of the bearings and the use of PFPE oils, it has 8 times the grease life that the company used to achieve.
Intended applications for the RBX include food & beverage, pharmaceutical, CNC manufacturing, and chemical systems.
The live demo will be available through March 2021, view the changes in the new design here.
Don't miss our Trend Chats and Daily Downloads with PMMI Media Group editors this evening. These discussions are attracting high participation among attendees looking for insight to bring back to their plant floors.
Companies in this article