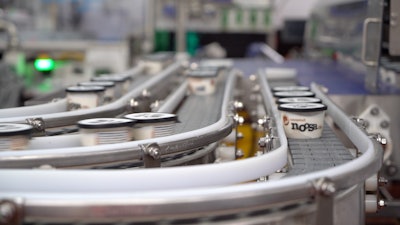 Noosa Yoghurt
Process downtime can be costly. Almost 80% of facilities are unable to estimate their downtime accurately, and those that try often underestimate their total downtime cost (TDC) by 200-300%. Processors who take reducing TDC seriously have the potential for a massive ROI through process improvements.
Located 70 miles north of Denver in a small agricultural community, Noosa Yoghurt has grown quickly in the nine years since selling at local farmers markets to distribution nationwide. With this rapid growth has come a need for increased output to meet demand—and, in turn, the need to find new ways to decrease downtime for system cleaning while maintaining sanitary standards and increasing product recovery.
Reducing lost time and product
Noosa sought to improve its processing and reduce TDC in three primary areas. First, fruit line piping must be cleaned after each fruit flavor in a 40-minute changeover process that repeats 12-13 times per week. In addition to the TDC for clean-in-place (CIP) procedures, Noosa lost about 15.5 lb of product during each cleaning cycle—totaling more than 200 lbs. of product lost each week. Second, Noosa was losing 115 lbs. of product each time the honey-recirculation line was cleaned, for weekly losses totaling 345 lbs. Finally, depending on the specific product recipe running through the blending skid, Noosa lost an additional 65-95 lb of product each week during cleaning.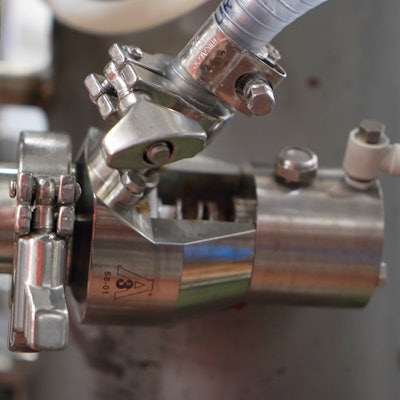 In addition to product losses, Noosa was using water and chemical rinses to power through lines filled with product. All-in-all, Noosa recognized the potential to save thousands of dollars each month through better product recovery and system cleaning.
One way that Noosa looked to improve the evacuation of its product lines and increase product recovery was through check valves, which are used to push residual product downstream at the end of a process while preventing product backfill during cleaning. Nick Hansen, Noosa's improvement engineer, set out to find a sanitary air blow check valve to do the job.
Capable of clean in place
The downside of standard 3-A certified air blow check valves is that they must be cleaned out of place—a manual cleaning step that adds costly downtime and introduces the possibility of human error. Because food, dairy, and beverage products are intended for human consumption, sanitary standards for production are high, and a great deal of attention must be focused on valve cleaning. But every manual step added to the cleaning process creates a potential failure point, so Hansen wanted to avoid the standard check valves.
After extensive web searches, Hansen found the TrueClean CIP'able air blow check valve, which he and his director of quality knew immediately was the best option. The patented valve from Central States Industrial (CSI) is the only sanitary air blow check valve approved by 3-A Sanitary Standards for cleaning in place.
With an air blow check valve that wouldn't need to be disassembled to clean, Noosa could increase cleaning efficiency while also maintaining product integrity. With increased levels of automation as well, Noosa operators could cut 40 minutes of work during a flavor changeover down to 45 seconds. Multiplying those savings by 13 changeovers per week, the savings started adding up. "It was a no brainer to make the purchase," Hansen says.
How it works
The TrueClean CIP'able air blow check valve has a compact design that can easily replace an existing standard air blow check valve. Typical uses include air agitation, air-drying lines, and product recovery.
While product is flowing, the primary valve stem is closed, preventing backflow into the air line. A secondary o-ring seals the air line. When air pressure is applied to the primary air inlet, both the primary and secondary seals open to allow air to flow into the process line.

During CIP, air is applied to the actuator inlet to open the primary valve stem while keeping the air line closed. CIP fluid flows around the primary valve stem and within the valve internals, thoroughly cleaning the unit.
Quick benefits and ROI
The automation and pre-programming capabilities also simplified the product changeover process. "The automation allows us to fine-tune our process to make sure we can recover as much product from each line as possible," says Chris Rivoire, automation engineer for Noosa. "The changeover process is a moment where a lot of different things need to happen. Having this level of automation gives us more time to do those other tasks—it's more time, at the right time."
Just six months after the new valves had been installed, Noosa had already realized $16,000 in savings—full ROI in just two months. In addition to the increased recovery, Noosa has been able to save about 19 minutes of operator time during each flavor changeover. That equates to more than 200 personnel hours per year—five weeks worth of work—that operators can use for completing other tasks.
Based on these results, Noosa expects that implementing 13 more valves across all of its processing lines will save the company $350,000 a year.
A system upgrade that prevents waste and does not sacrifice cleanliness standards also aligns with Noosa's company culture and brand. "Since the beginning, Noosa has always focused on using our minds, with new technologies, to ensure we continue to produce the best yogurt in the world," Rivoire says. "These new valves fit right in line with those ideas."
Companies in this article