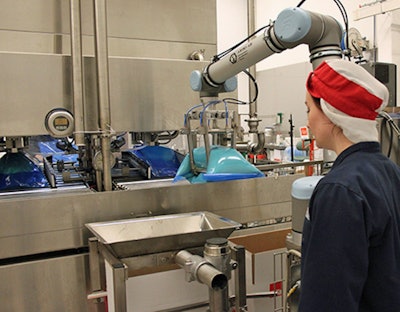 As food manufacturers identify opportunities for improving plant-floor operations, automation suppliers keep developing a range of solutions to meet the needs of both large and small facilities. One budding solution, collaborative robots — cobots — is helping to sustain a growth pattern for robotic technology. In 2017, nonautomotive robotic orders increased by 20.5 percent regarding total units and 7.3 percent in dollars, according to the Robotics Industries Association.
"What I find most telling about these results is not simply that the automation market continues to grow, but that it's growing in such a wide variety of industries," says Jeff Burnstein, president of the Association for Advancing Automation.
For many years, consumer packaged goods companies dodged robotic investments due to a significant capital expense and integrating substantial robots in small plant footprints. A new application at Sweden's Orkla Foods demonstrates how cobot technology from Denmark-based Universal Robots can be integrated into small production footprints.
The Orkla Foods factory produces vanilla cream for the Swedish market, and the company wanted to automate the next step on its production line after a SIG Combibloc CFA 712 filling machine finishes depositing product into a clear, foodservice-sized plastic bag. The servomotor -driven UR10 cobot captures one filled bag at a time and places it into a case carton — case erector and sealing system. The cobot works independently from the filling machine and the case erector systems.
"An important requirement was that the robot had to work with no supervision or extra support for it to work," says Johan Linné, site manager for Orkla Foods Kumla.
The direct drive motor inside the cobot is the primary bearing of the cobot's rotor, which provides six-axis movement and an enormous reduction in overall size. Radford, Virginia-based Kollmorgen supplies the servomotor technology to Universal Robotics. Also, traditional safety guards are not needed in this limited workspace area due to one-touch shutdown modes when operators come in contact with the cobot.
"An important advantage with this cobot is its ability to immediately stop when you bump into it, meaning that it is safe and more integrated with the employees," says Linné.
Another remarkable advancement over the last five years has been the rapid adoption of wireless industrial networking and the increase in more remote monitoring solutions in many industries. In the food and beverage industry, companies are on board with this flexible networking solution for both large and small facilities.
A recent application by Swedish bakery Östras Bröd employs Bluetooth communication to feed data from SoftTec GmbH mixing equipment to a Siemens S7-1200 programmable logic controller (PLC), via PROFINET industrial networking.
The machine — mixing equipment for bread making — consists of several large cylinder-shaped containers that slow spin around like a carousel, which makes it possible to fill them with flour and water, but it also makes wiring cumbersome, according to the bakery processor. The Bluetooth solution uses HMS Industrial Networks' Anybus Wireless Bolt solution, which ensures a reliable wireless connection up to 330 ft in a bakery production area with limited space. Östras Bröd mounted one communication spot on top of the mixing machine and another wireless device on top of the control cabinet, 32 ft away from the baking equipment.
"The alternative to wireless communication would be to use slip rings," says Andreas Kisch, project manager at SoftTec. "But everything that moves and turns wears down, so we decided to go with a wireless solution that does not require any maintenance."
Another reason for Bluetooth instead of a wireless local-area networking (WLAN) design is the medium's use of narrow frequency band channels and how it automatically switches frequency to find data connections. After evaluating the production area, Östras Bröd realized quickly that stainless-steel equipment in a small bakery production area would not allow for a reliable WLAN network communication.
Companies in this article