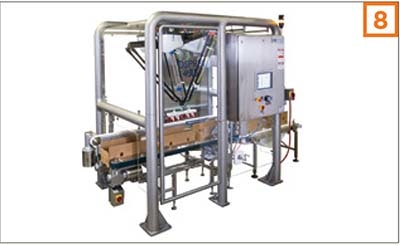 Robots in packaging are increasingly common these days, and PACK EXPO Las Vegas had plenty of robotics to dazzle attendees.
Here are a few examples.
A very cool end effector operating at the end of a Fanuc robot was the star of the show at the Simplimatic booth. It's designed to mechanically grip and lift either heavy cases or light cases without causing damage to the contents inside the light cases. Crucial is the use of two Fanuc servomotors that open and close the gripping devices. These motors rely on force-sensing technology to look for feedback to know how much pressure they can exert so as not to crush the contents inside the case.
Meanwhile, at Graphic Packaging International, Inc. on display was a custom-designed robotic neck-tag applicator at PACK EXPO Las Vegas that utilizes the newly released Yaskawa Motoman GP8 robot on the YRC controller, the fastest robot in its class. The robot applied cone-shaped paperboard neck tags over juice bottles in single file. Brand owners see these four-sided, cone-shaped neck tags as uniquely suitable for bottles because they provide a unique billboard to capture the consumer's attention in:
• Kicking off a promotion.
• Launching a new product.
• Enhancing brand identity.
• Telling a unique story.
• Providing product information or benefits.
• Offering a coupon.
• Featuring an award.
• Providing instructions or recipes.
The Yaskawa Motoman GP8 robot was selected for this application, said Graphic Packaging, because it delivers optimal speed, accuracy and range of movement in a sturdy, compact design. GP Series six-axis robots are designed for fast-paced assembly, packaging and general handling processes.
JLS Automation's machine offerings at PACK EXPO demonstrated a next-generation platform with a strong focus on food safety and advanced controls (8). The company's Talon robotic pick-and-place system and Osprey robotic case packers were designed with the highest level of sanitation for food packaging, and they feature four levels of sanitary construction, according to the company. Additional sanitary features include pick belts with a motorized roller, conveyor stand-offs that help prevent product buildup, a tool-less belt-lifting mechanism, and non-existent welds for easy washdown. The all stainless-steel construction includes sloped surfaces and control box for run-off, while the standard open-frame design allows for easy cleaning, access, inspection and maintenance.
The Osprey case packer offers a Codian robot with a high payload capacity ranging up to 66 lb. The Talon pick-and-place system features an IP69K rated stainless-steel Codian delta robot with a unique, food-grade soft gripper end-of-arm tool from Soft Robotics. Both systems offer precise product placement and orientation for fast, efficient packaging.
JLS also integrated a forward-thinking industrial computing platform into the Talon and Osprey systems to improve motion control and provide end users a path to Industry 4.0 concepts of greater flexibility and IoT connectivity. "Hygienic design and flexibility is the backbone of JLS packaging systems," said Craig A. Souser, president/CEO. "Our next-generation systems take those principles to another level. Customers want systems that not only get the job done, but are sanitary, flexible and truly operator-friendly. Throw in remote monitoring, Industry 4.0 and advanced connectivity, and our new innovations certainly answer the call."
To learn about some of the other innovative packaging and processing technologies that were featured at PACK EXPO Las Vegas, please read "PACK EXPO Las Vegas 2017 innovations report."
PACK EXPO Las Vegas showcased packaging solutions that cater to the demands of the e-commerce market. To learn about how packaging companies are helping food and beverage manufacturers take advantage of the e-commerce boom, please read "E-commerce taking off."
At PACK EXPO Las Vegas, the Cold Pressure Council discussed the benefits of food and beverage companies earning its high pressure processing (HPP) certification. To learn about the HPP certification program, please read "Cold Pressure Council offers high pressure processing certification."
Companies in this article