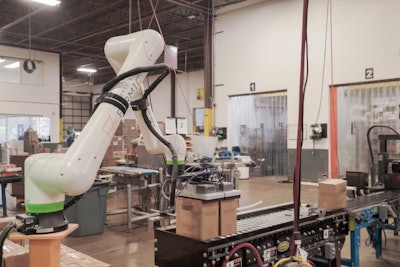 Located in Batavia, Ill., GreenSeed Contract Packaging underwent an expansion but was then challenged by the ongoing labor shortage still affecting the industry since the beginning of the pandemic. The company, which serves large and mid-sized consumer packaged goods (CPG) companies in the food industry, sought new ways to drive distribution efficiencies while keeping costs down.
GreenSeed's solution was to turn to automation on the line in positions which could be easily replaced and even performed more efficiently by a robot or collaborative robot (cobot). Though purchasing a robot or cobot was not what the company had in mind. They decided renting was the way to go.
Formic—a Robotics-as-a-Service (RaaS) provider, headquartered in San Pablo, Calif.—designed, deployed, and maintains uptime for GreenSeed's first palletizing systems as a rental system.
A different way to invest in automation
Contract manufacturers and packagers (CM/CPs) can benefit from the flexibility robots, and cobots specifically, provide and palletizing is a job easily replaceable by automation, which further allows the contract packager to move its employees to more complicated positions. But considering the fluidity within the contract packaging space, buying a robot may not always make sense.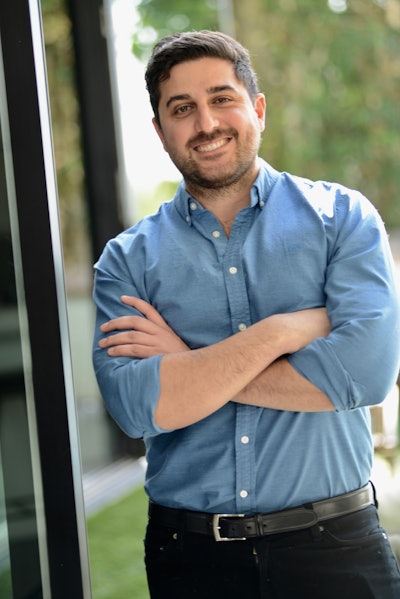 Formic's RaaS solution delivers customized robotic systems from robotic vendors such as Fanuc, Universal Robots, and Yaskawa Motoman to customers who pay by the hour for usage. The RaaS solution is designed to remove the risk, complexity, and upfront cost usually associated with the technology, and enable small and mid-size companies, such as CM/CPs, to scale their automation efforts to meet supply chain demands without relying on slow capital budgeting cycles.
"We spec the machine, we work with our builders to design the machine given the CM/CP's footprint available, and given the requirements in terms of speed rates and safety requirements they might have at their facility," said Misa Ilkhechi, vice president of solutions and partnerships, and co-founder of Formic.
According to Ilkhechi, end-of-line palletizing and case packing are the two areas of automation most adopted by CM/CPs, followed by other secondary packaging and end-of-line packaging tasks such as shrink wrapping, labeling, case forming, and metal detection.
Adding cobots on the floor
Formic partnered with manufacturing systems integrator HCM Systems to design and deploy three robots at the GreenSeed facility. The first two are Fanuc CRX10 cobot palletizers installed in a dual setup, allowing operators to switch out filled pallets without pausing production. The CRX10 is a 6-axis cobot with a safety scanner design and built-in safety sensors. These safety features give the cobot a smaller footprint, allowing it to be installed in areas where an industrial robot couldn't physically fit. The cobots are capable of handling a series of multiple SKUs, combined payloads of a variety of weights, and the agreed-upon cases per minute by the client.
The recently installed third robot is a 3-axis Gantry system case packer from Blueprint Automation, capable of providing horizontal pack and vertical pack. The case packer is designed to pack pouches into cases and seal them.
The palletizers were installed during the first quarter of 2022 and are rented out to GreenSeed for a period of five years.
Formc specks out the machines during the process leading up to design and ensures the machines are serviced and maintained throughout the rental experience. "But once we install it, we want to make sure that it does exactly what they need. And up to that point, the customer doesn't pay us anything. So we make sure it is doing exactly the metrics that we agreed on, the rates, and we have a checkup every month where we go to their facility to make sure anything that needs to be replaced on the machine is replaced," said Ilkhechi.
Benefits of the new technology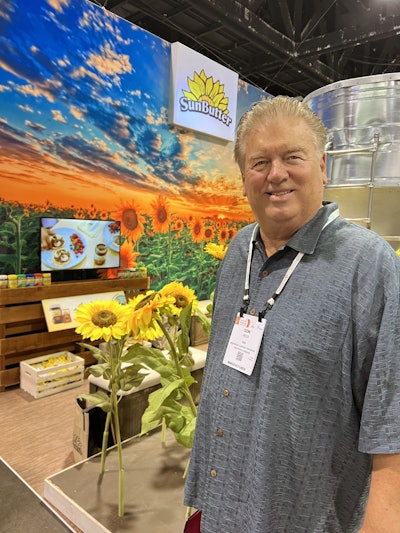 Don Reed, CEO of GreenSeed Contract Packaging, explained that his operators found the cobots to be liberating because they took on repetitive and tedious labor, freeing up time for workers to focus on elevating operations.
"Our operators are excited to use the new technology because it helps them improve the process and efficiency for our clients," said Reed. "We've built a team of life-long learners and problem solvers. They look at new technology as a means for collaboration and betterment." Formic engineers remained on site for the first couple of weeks to help the GreenSeed operators adapt to working alongside the palletizing cobots.
"While some in manufacturing look at automation as a threat to human workers, we look at it as a way to help expand the skills for our workers," said Reed. "This upskilling is the reason we have been able to grow and promote internal staff into higher level and managerial positions."
GreenSeed intends for the technology to make it more competitive and serve as an educational platform for its employees that can help them move into better roles. Following deployment, GreenSeed was able to repurpose line operators, saving approximately 35% a year in labor-related operational expenses and minimizing the company's reliance on staffing agencies. The use of the cobots rather than employees on those parts of the line also eliminates the amount the contract packager would otherwise pay towards benefits and taxes.
Cobots increased GreenSeed's cost efficiency
Another significant benefit is the consistency and efficiency of the palletizing cobots that could run full time if GreenSeed wished. Reed confirmed the cobots have reduced downtime on the line, which further reduces cost. Additionally, Formic's system only charges for the time the machine is in use.
"Our customers don't pay us anything till we install a machine and it is operating based on the metrics we agreed on. And the only payment they have is at the end of the month for the hours that they used the machine," said Ilkhechi.
GreenSeed plans to continue renting for the foreseeable future instead of buying its own robots and hiring the specialists necessary to maintain the machines. That partnership model will allow the company to maintain the flexibility to adapt.
"In any partnership, it's important that you evolve together. Being flexible and dynamic is the key to being able to overcome obstacles now and in the future," said Reed.
Companies in this article