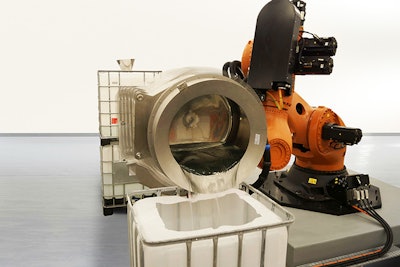 In the UK, productivity is a big challenge as food manufacturers are facing rising labor costs and issues of availability, all of which have been exacerbated by Brexit,77 says Jake Norman, head of innovation, Olympus Automation (OAL). "We recognized that traditional systems struggle to overcome these issues, often bringing complexity into food manufacturing. Taking inspiration from the automotive industry, we recognized that robotics could make a big impact on the way we handle and process raw ingredients, eliminating risk and achieving a step change in efficiency."
That robot comes in the form of a robotic chef, known as APRIL (Automated Processing Robotic Ingredient Loading), developed by OAL with the support of the University of Lincoln. APRIL allows food manufacturers to move a cooking vessel from one processing/ingredient station (heat, mix, etc.) to another on an industrial scale. APRIL offers the opportunity to simultaneously automate the handling of raw materials and processing. Several European- and UK-based food manufacturers are set to integrate APRIL into their processes, and results indicate that parallel processing increases the utilization of high-value assets, says Norman.
"The nature of a traditional cooking vessel means that typically an expensive high-shear mixer is only used 5% of the time," he says. "Within APRIL, we can get raise this to 70%, reducing capital expenditure." Better use of equipment means manufacturers don't have to invest in as much equipment on the front end, and in terms of return on investment, Norman says APRIL cells offer a faster payback due to reduced headcount and enhanced yields. "For a three ton/hour soup/sauce manufacturing cell, an APRIL cell would cost less than a traditional cooking kettle gantry setup."
While operating and capital savings are a necessity, Norman believes the biggest impact that APRIL can make will be in food safety and compliance. He says: "Removing the human from the process provides complete traceability and food processors will be able to manage risk in a much more controlled manner."
One APRIL manufacturing cell can make multiple products while multiple small cells could work together to create a final product. The integrated system produces higher quality food with improved flexibility, and offers increased process consistency at a faster rate. It has potential to greatly reduce ingredient wastage and energy costs while taking up to 50% less factory space, claims OAL.
APRIL is best suited to new factories, and the first system is due to be operational in Europe within a year for manufacturing sauces. Norman says OAL is exploring the possibility of linking APRIL cells to existing factories with a new research project on the use of collaborative robotics and automated vehicles in the ingredient preparation area.
"We want to make a range of restaurant-quality products without human intervention," says Norman. "The rewards are complete traceability and unbeatable efficiency."
Companies in this article