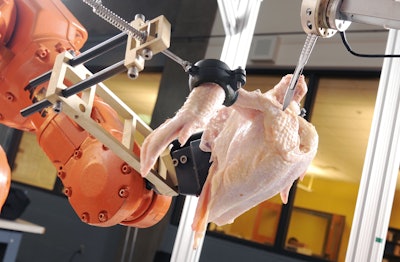 Cobot technology — collaborative meets robot — has had its share of media buzz recently, but advanced industrial robot technology could be another compelling narrative as food manufacturers find new ways to insert more automation into plants. For example, advanced industrial robots are beginning to offer better end-effector technology and sensing to help food manufacturers find these new applications.
One new end-effector from Soft Robotics Inc. provides fruit producers the ability to use robots to pick irregular-sized products, gently.
"Our end-of-arm tools operate by injecting and removing precise amounts of air from our patterned soft "fingers" to close and open," says Dan Harburg, director of business development at Soft Robotics, Inc. "We've developed a proprietary, pneumatic control system — the Soft Robotics Control Unit (SRCU) — that enables our tools to grip and release products in under 100 milliseconds." The SRCU talks to the robot's master controller and receives digital signals to open and close, according to Soft Control.
From a food producer and automation perspective, the key enabler is ease-of-setup for the end-effector control. The SRCU can be connected and configured via the company's software. The system allows the operator to adjust how firmly the tool grasps a product and how wide the fingers open to release a product.
"We hear some cautious optimism and prospective clients are enthusiastic about advanced robotics and automation in their process," says Brent Bell, engineering manager at JMP Automation on a recent webinar from the Robotic Industries Association.
"The biggest challenge for managers is to change their mindset with automation," says Harburg, We're working with companies purchasing robotic equipment for the first time and [that] are still relying on spreadsheets."
Food companies testing new robotic applications are relying on system integrators, like JMP Automation for expertise.
"The biggest thing I see is the underestimation of the nuances with manual processes," says Bell. The nuances of operators need to be front and center early, as it's always those minor details that can create hiccups later on in a project."
Commercial bakeries are full of manual processes, and Soft Robotics is finding success there. "Given the volume of product produced in many commercial bakeries, it's clear why companies want to automate, and most bakeries rely on human labor for picking and packing their products," says Harburg.
Soft Robotic's end-effector technology has handled many bakery products, including frosted muffins, glazed doughnuts and fresh balls of dough.
Besides manual processes, workforce issues are driving new robotic applications. "Some positions for operators are hard on the body and can cause consistent turnover with a production line," says Ai-Ping Hu, senior research engineer at Georgia Tech Research Institute, at the ProFood Tech show held in Chicago.
Hu and the Georgia Tech Research Institute showcased the Intelligent Cutting and Deboning System at a conference session, titled, "Food Plant of the Future: Are You Ready for New Technology? Their robotic application aims to eliminate high-turnover positions, which increases plant costs due to retraining.
The deboning system uses a two-degrees-of-freedom cutting robot to make planar cuts for chicken, while a six-axis industrial robot arm sets the alignment of the bird. The robot arm places the bird under the vision system, and then it moves the bird on the cutting robot.
According to Hu, the system employs a force-feedback algorithm that can detect the transition from meat to bone. A sensor is attached to the cutting knife handle and enables the robot to detect imminent contact with a bone.
"The university has been working with industry for eight years on this application and commercialization is a year away," says Hu.
Mark your calendar now. The next ProFood Tech will take place March 26-28, 2019 at McCormick Place in Chicago, IL!
Companies in this article