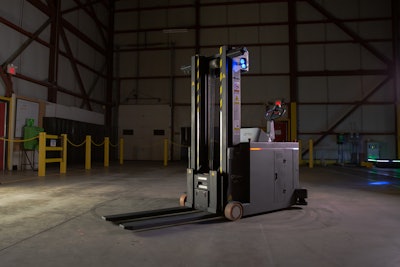 The Otto Motors Lifter forklift picks up and drops off pallets autonomously. With advanced safety sensors and class-leading autonomous driving capabilities, it works alongside people, other vehicles, and existing infrastructure.
The forklift's autonomy software makes intelligent, real-time decisions. With dynamic path planning, lane tending, intelligent pallet detection, and stretchwrap piercing, it seamlessly navigates traffic and obstacles to predictably and precisely deliver materials to the right place, at the right time.
The Lifter navigates safely through high-traffic areas and intelligently moves at speed through low-traffic zones. Route optimization is completely autonomous and integrates seamlessly with the design workflows specific to customer needs.
The forklift determines if a pallet is properly seated, if it is centered or skewed, and whether stretch wrap is covering entry notches. It can also match its speed to the environment, speeding up when safe to do so and slowing down accordingly.
In addition to more than 80 integrator partners worldwide, including Honeywell Intelligrated, Matthews Automation Solutions, and Gray Solutions, the Otto Motors Lifter is available through a network of leading material handling solutions providers in North America, including Eastern Lift Truck and Toyota Material Handling Systems of Atlanta.
Companies in this article