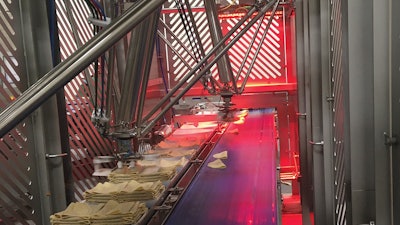 Another 2021 winner of ProFood World's Manufacturing Innovation Awards was CTI Foods and the automation of its taco packaging line with Talon robotic pick-and-place systems from JLS Automation. Joyce Fassl detailed how the tacobots efficiently upgraded and automated production with a unique two-pick mechanical tool.
There are many different interpretations as to exactly how the popular phrase "Taco Tuesday" originated. But at CTI Foods based in Saginaw, Texas, every day is taco day. The culinary-driven company was founded in the early 2000s by a group of industry veterans, and today, it is owned by a private equity firm and has seven plants throughout the U.S. The 187,000-sq-ft Saginaw facility was built in 2010 and started taco production in 2011.
Producing fresh tacos for major fast food chains and packaging them while still warm was a labor-intensive and repetitive task. In fact, the company employed 16 workers on each shift to manually load filled, soft tortilla tacos into chipboard trays that were also manually formed. The workers would orientate the tacos and load two stacks of 25 into each tray.
"The tacos have always had a very unique packaging orientation, where there's 50 to a tray," explains Will Davenport, CTI Foods' senior director of engineering. "We're packing them hot, and then, they go through a spiral freezer." To keep the tacos from misshaping through the freezing process and transit, they were interwoven within the trays by hand. "We were constantly having to shift people from spot to spot to not have a repetitive motion injury," he adds.
Continue to the full article:
CTI Foods Automates Its Hot to Handle Taco Packaging Line
Companies in this article