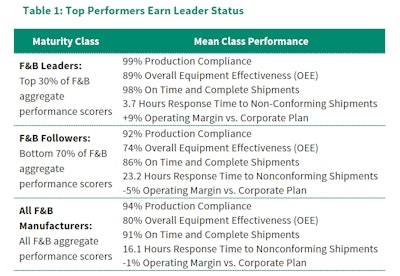 Food and beverage companies are embracing data acquisition strategies at all levels of the enterprise, be it the plant floor, SCADA monitoring, operations management or the business intelligence level. Plant optimization will continue to make gains in the industry in 2017 as lightweight data acquisition solutions combined with advanced industrial networking keep getting better.
One interesting wrinkle to this data acquisition trend is how smaller and mid-level food companies have been able to leverage low-cost cloud and virtualization solutions to modernize their plants. Grantek, a Canadian-based system integrator, recently began a supervisory control and data acquisition (SCADA) monitoring solution for a food manufacturer that still resides on a 25-year-old legacy control platform.
The food manufacturer's immediate goal was to migrate thirteen obsolete SCADA applications to multiple applications of FactoryTalk View Site Edition (SE) from Rockwell Automation and secure migrated assets on a converged Industrial Data Center.
"We used one FactoryTalk View distributed architecture per application and process," says Robin Maurice, manufacturing IT manager wirh Grantek Systems Integration, during a recent webinar. "The client really wanted to isolate and minimize downtime when going live with this migrated application."
Overall plant optimization is the goal of the complete integration, but the first component focuses on plant application visibility and better operational control.
"There was a lot of scripting on the server side, mostly due to older PLC capabilities and batch editing," says Maurice. "The solution was to move all server side scripting to a dedicated, object-based control application and then into the new SCADA solution. This will be used later when the client is ready to do a PLC migration."
This HMI control and monitoring solution uses a KepServerEX server from Kepware to provide interoperability and access to PLC tags inside the Texas Instruments hardware.
"There were so many tags, devices and alarms being scanned in each of these applications that we had to use the OPC server from Kepware," says Maurice. Factory Talk SE comes with six components and can run on one computer: alarm server, data server, HMI server, HMI client, directory and studio.
This is a prime example of today's industrial automation solutions--lightweight networking technology meets advanced monitoring to enable a manufacturer, big or small, to become a leader in the industry. A recent Aberdeen Group report, titled, "Achieving Operational Excellence in Food and Beverage," revealed operational metrics from "leaders" and "follower" companies. With more than 170 respondents, the study took a deep dive into five operational metrics, such as production compliance, overall equipment effectiveness (OEE), on-time shipments, non-conforming shipments and operating margins (see Aberdeen chart above).
A big takeaway from the report was the OEE metric. The study shows that food and beverage leaders hit an 89% OEE rate while followers come in at 74%. As the above case study shows, legacy control architecture can be a big hurdle to get consistent, apples-to-apples OEE data from different production lines.
"Production monitoring projects usually involve instrumenting older packaging lines along with new lines, says John Oskin, president and CEO of Sage Clarity. "We have clients that have taken their packaging lines from the mid-40s to over 70% OEE."
Sage Clarity offers a middleware solution, called ABLE, that targets data collection for many types of production lines and allows it to feed data directly to manufacturing execution systems (MES) and SCADA platforms. "It keeps PLC logic focused on machine control, which is good from a security perspective and streamlines an Industrial Internet of Things (IIoT) strategy.
OEE can be a hotly debated metric in manufacturing circles, but standardized data across multiple production lines can be a major step toward holistic plant optimization.
"This can be a classic case of "new answers to old questions," says Andrew Hughes, LNS research analyst in a recent Q&A session. "You can continually improve analytics by addressing larger data sets and applying ever more sophisticated analytical techniques."
For large and small manufacturers, low-cost data acquisition solutions can provide the solution to make that leap from follower to leader in the industry.
Companies in this article