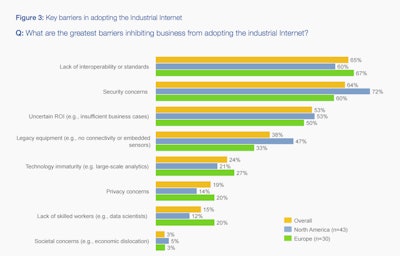 The Industrial Ethernet and Fieldbus network installed base debate runs deep among process control users, especially with food and beverage companies as they move toward common automation platforms. In 2016, German-based HMS Industrial Networks revealed that "Ethernet installations are growing at 17 percent per year and now account for a third of all industrial networks. Fieldbus networks make up the majority of the installed base and are growing by 7 percent year." The company also adds that those growth rates are far greater than automation equipment, in general.
Currently, Fieldbus has a foothold in many continuous process industries. However, a favorable investment climate for the last eight years and a push for more interoperability has factory batch process applications moving to Industrial Ethernet networking.
And, more process standards groups have helped the interoperability cause through partnership agreements in 2016. OPC, Brussels-based NAMUR, the Organization for Machine Automation and Control (OMAC), and Open Device Vendor Assn (ODVA) announced partnerships in 2016, along with the Field Device Technology (FDT) group.
In November 2016, NAMUR announced a new development with ODVA.
"NAMUR is formulating its strategy and requirements to adopt Industrial Ethernet in process automation where possible," says Mr. Sven Seintsch, chairman of NAMUR Working Group 2.6. "NAMUR and its Fieldbus working group welcome the opportunity to partner with ODVA, as the organization that develops and manages the EtherNet/IP technology and standards, to help accelerate adoption of industrial Ethernet in the process industry."
Adoption of Industrial Ethernet in the food and beverage space is slowly taking shape as companies strive for more visibility with plant floor data and leaner maintenance routines. A fortune 500 food and beverage company recently updated its production network to Industrial Ethernet, with the goal to drive down operational costs.
"The change to an Ethernet architecture for the food manufacturer wasn't going to produce massive long-term cost capital savings for the manufacturer, but would reduce complexity, increase speed for installation and commissioning, and would provide quicker maintenance solutions, says Steve Orth, account manager for Premier System Integrators.
The older fieldbus architecture consisted of a one-pulse signal and 2-wire, 4-20mA HART from multiple flow meters within this application.
"The older technology—4-20mA—is a known and trusted technology but its implementation takes a lot of I/O modules, and all the configuration is done at the I/O interface," Orth added. A new Ethernet-based network design would offer reduced cabling with one Ethernet cable linking the flow meters to the same Fieldbus switch that connects all the other devices. Plus, Ethernet cable can be checked with simple tools while twisted-pair can be miswired.
Better device diagnostics for equipment, such as valves and pumps, are driving industrial networking updates but so is the ability to receive valuable machine data directly from the floor.
A recent example of this type of smart machine design comes from German-based Weber Maschinenbau and its modular slicing and packaging equipment. The equipment slices sausages or cheeses and places them into a single, snack package. The slicing machine from Weber can be combined with one or more machine modules, such as a scanner, peeling machine, scale interleaver, multi-layer buffer, infeed, robot, etc.
"In short, we wanted to develop a modern SCADA system, forming a reliable basis for process control systems and provide a standardized interface for clients," says Udo Hallenberger, software development for Weber Maschinenbau.
Weber uses OPC UA server-based technology to link to all plant and enterprise clients to the machine. This design provides communication to local or remote clients to operate theses machines, business software or process controls systems.
According to Weber, "by strictly separating communication from the mapping of business processes in the middleware, it has been possible to develop particular software layers of the application almost independently."
Weber used the C++ based OPC UA SDK/Toolkit from United Automation to develop the middleware. The middleware contains a base library that hides the OPC UA stack, and provides generic functions and has built-in security handling.
With these interoperability developments, 2017 should be a be good year for case applications on this topic. Stay tuned.
Resources:
HMS Industrial Networks, www.hms-networks.com
OPC Foundation, www.opcfoundation.org
NAMUR, www.namur.net
Organization for Machine Automation and Control (OMAC), www.omac.org,
Open Device Vendor Assn., www.odva
Field Device Technology Group, www.fdtgroup.com
Companies in this article