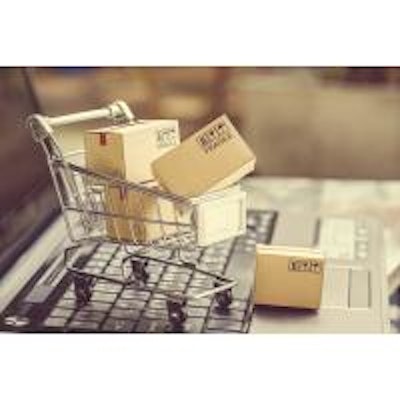 While a growing number of people order household products and groceries online and wait for Amazon (or another carrier) to deliver, the growth in packaging for e-commerce is still largely about shippers, void fill, and protective packaging. And much more jewelry, clothing and electronics are appearing on our doorsteps than groceries.
At the recent conference, "Sustainability in Packaging U.S.," materials suppliers, CPGs and even a handful of retailers attended a two-hour workshop on E-Commerce. Hosted by Smithers/Pira, and led by Tom Blanck, President of Packaging Solutions Group, participants were encouraged to speak up, and there was much lively conversation.
CPGs looking at their primary packaging are still wondering exactly what they should do. In some cases, current packaging does not translate well into the e-commerce equation.
Bigger sized products like two-liter bottles or bulk pet food may need to shrink portion and packaging a bit to afford the delivery costs. Bundling for efficient shipping might be necessary too. Sending one bottle of shampoo with a possibly "leaky" pump may not be worth it. But bundling three bottles of shampoo with tight, leak-proof closures and a reusable pump packed separately, may be a better solution.
Brands using breakable glass may switch to plastic for e-commerce purposes. At the high end, special themed gift sets available only to Amazon Prime members, for instance, may start to show up at your door.
And, ultimately, some product configurations (12-cans of soda is one example) just don't ship cost-effectively.
Often, too big a package is being used for the size of the product. Void fill is used to fill empty space, definitely compromising the consumer experience.
In a lot of these cases (already packaged memory card with blister on a board, for instance), Blanck suggests using a flat shipper and going through the U.S. Postal Service.
All along the e-commerce supply chain, packages are tossed in bins or carts for sorting, paddles physically divert the package into the proper lane, then sortation tubes drop packages into carts again, with boxes routinely crashing into each other.
The distribution center, where shipping full pallet loads is the norm, is no longer the destination. Now you have thousands of "last" mile deliveries with an estimated 30 touches through the supply chain that often ends with a single package bouncing around in the back of a truck.
The package still has the prime directive of protecting the product. The final mile for e-commerce often means varied types of transportation, manual handling, and danger from weather and theft.
Damage, spoilage and theft have the worst impact on sustainability. It isn't just the cost of the product damaged. Possible costs associated with loss include:
Lost product
Shipping returns
Replacement shipping
Labor and handling
Rework, repair
Schedule interruptions
Markdowns
Waste and disposal
Dissatisfied customer
Another problem is marketing's fear that hard-earned brand awareness may get lost in a box of assorted products delivered to the home. The web page becomes your "shelf" and how will this work to carry brand messaging?
How do you achieve your moment of truth in a corrugated shipper? A major soft drink company in attendance said, "we want to win on the web page and on the shelf."
Plain brown corrugated shippers can sport Internal graphics and interactive designs, seeking to deliver a novelty unboxing experience. Digital print allows for customized messages and promo codes.
How do you define e-commerce packaging? Packaging used outside the brick and mortar retail experience for products shipped directly to the consumer. This could include a combo of primary and secondary packaging.
Secondary packaging has been most affected so far. The number-one material used for e-commerce is corrugated—accounting for almost 80.5% of materials, according to Smithers/Pira, host of the even Sustainability In Packaging U.S.
Flexible films make up another 15%, and while protective mailers make up only 1% of the current e-commerce market, it is the fastest growing segment. Lightweight, customizable and designed to run through standard mail, these are perfect packages for flat items, small jewelry and electronics, and especially clothing.
In fact, there is a lot of over-packing going on.
If a company approves five or six different sizes of corrugated boxes to have on hand, they might not stop to think that for single orders—one ink cartridge, for instance, or smart phone accessories, etc., maybe a padded envelope with flat profile is the best choice.
Box on demand holds a high degree of interest and could eliminate a lot of inventory space being used for stocking multiple-sized shippers. This also takes the guess work out of the employee's hands. Shipping employees will often use too big a box and stuff it with pillow cushioning, etc. A less sustainable choice and not appreciated by the customer.
Packaging factors high in the e-commerce experience. "Packaging impacts the online buying experience," said 95% percent of respondents in a 2017 study by Storo Enso.
The CPGs in attendance are very aware of this fact. Sustainability perceptions are important too. There is a continuing effort to move to more sustainable e-commerce packaging solutions.
Thermoform trays are being replaced with die cut corrugated packaging (like wine industry) or molded pulp when volume suggests the tooling is worth it.
In some parts of the country, a plain corrugated box is not enough to weather wet conditions on a front porch. Some varnishes/coatings are being applied to corrugated shippers to take on rain and snow.
A major retailer of electronic goods has to add an opaque flexible outer wrap to try to prevent theft on the doorstep—a growing problem especially during the holidays for all packages shipped in their own containers. (SIOC).
Also, many retailers are not ready for the returns program that follow e-commerce delivery. Many have been overwhelmed by the sheer number of damaged or returned packages.
Companies in this article