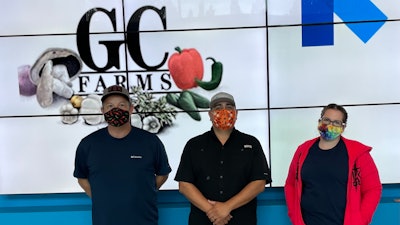 American agriculture and food business, George Chiala Farms (GC Farms) produces prepared vegetable ingredients for well-known consumer brands whose products—such as soups, salsas, and frozen entrees—are sold throughout the USA. The business operates two processing plants year round, both in Central California, employing approximately 500 people and processing more than 120 million pounds of vegetable ingredients annually. This throughput requires about 150 million pounds of raw vegetables, some grown by GC Farms and some by third-party suppliers.
"As the industry moves toward ready-to-eat products, our customers' quality expectations have gotten a lot higher," states GC Farms' director of operations, Charles Cutler. "Quality used to mean assuring food safety. Now it's about achieving product perfection. That's why we have made a big shift in the last couple of years from manual sorting to automated sorting. This has taken our product quality to a higher standard, allowed us to reduce and stabilize our labor force, and reduced our labor costs for sorting on our Hollister location line by 75%."
But shifting to automated sorting has not been enough. "The quality of our raw materials can vary a lot, but the quality of what goes out to our customers has to be consistently high," Cutler explains. "To give our customers everything they ask for in quality, it is George Chiala Jr.'s vision to embrace digitalization, to be at the forefront of our industry."
To make this vision a reality, GC Farms turned to the recently-launched Tomra Insight data platform from Tomra Food, a designer and manufacturer of sensor-based sorting machines and integrated post-harvest systems. The two companies have worked together in the past, with an assortment of Tomra belt sorters and free-fall sorters installed at both of GC Farms' locations to help the company cope with increasing production volumes.
Data collection reduces production costs
Tomra Insight is a subscription-based service, developed from customer feedback, that gathers data from sorting machines which can then be used to optimize machine settings in real time, as well as retrospectively to make informed strategic business decisions. In other words, the food sorter becomes a connected device rather than an isolated machine, which helps to improve the efficiency of quality management, process engineering and optimization, machine maintenance, and crop purchasing from growers.
Through data gathered, downtime is reduced by monitoring machine health in near real-time, supporting the management of predictive and condition-based maintenance and preventing unscheduled machine shutdowns. Operating costs are reduced by identifying gaps in production and analyzing potential root causes. And sorting to target quality is enhanced by having accurate material-composition data that enables decisions to be based on more detailed information. Because this data platform continuously measures the quality of the processing line's material stream, operators can make prompt adjustments to machine settings in response to changes in material composition on the line.
The gathered data is stored securely in the cloud so that it can be accessed from anywhere via web-based desktop and mobile devices. Tomra Insight is built on Microsoft Azure's cloud system and provides scalability, safety, and speed. This allows Tomra customers to connect the Tomra Insight platform to their internal IT systems, such as business intelligence (BI), enterprise resource planning (ERP), manufacturing execution system (MES), manufacturing data collection (MDC), and other industrial automation systems.
Improving line rates and quality
The three Tomra machines at Morgan Hill and the Tomra 5A at Hollister are connected to Tomra Insight. This has put live access to machine data from both plants at George Cutler's fingertips. And in the first few months of using Tomra Insight, the Morgan Hill plant saw two big benefits. One is enhanced control over line rates, which optimizes line efficiency and throughput. The other is the ability to accurately assess the quality of incoming raw materials, which saves the company money when quality isn't what it should be.
"Whenever we've had a really bad batch of vegetables, we've been able to discuss this with our growers by sharing the Tomra Insight report," Cutler states. "This ensures we pay a fair price for what we're receiving, and it can help growers identify if there are any issues that they need to address to improve their processes and profitability."
In addition to reporting defect composition percentages in charts, Tomra Insight allows users to create reports specific to batches rather than a particular timeframe. In the works are an automated reporting feature that can specify the number of requirements to be reported on, the frequency of reports, and the email addresses to which they should be sent automatically.
Cutler says that the efficiency of the easy-to-read dashboard has allowed the company's operators to make near instantaneous decisions on the line instead of waiting until the run is over to see the yield. A dashboard shows if line adjustments are needed, and the data will confirms if those changes are working. The monthly Tomra Insight updates are also allowing GC Farms to improve its processes with organizational tools.
"Seeing and acting on data is improving our line rates, our product quality, our yields, and our profitability," Cutler states.
Companies in this article