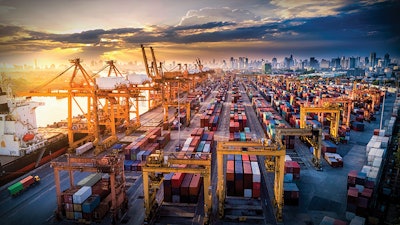 Photo courtesy of DelmiaWorks
Black swans—so named because they are rare events, often with severe consequences—have become increasingly common. A global pandemic and a European land war are by no means common events, but both have disrupted supply chains and altered demand over the past couple years, greatly affecting how food and beverage manufacturers manage both incoming and outgoing supplies.
Two other black swan events impacting the food and beverage industry have been trade wars involving tariffs that tangled supply chains, as well as catastrophic weather related to climate change, notes Ara Surenian, vice president of product management at Plex, a smart manufacturing company. "I've never seen anything like this," he says.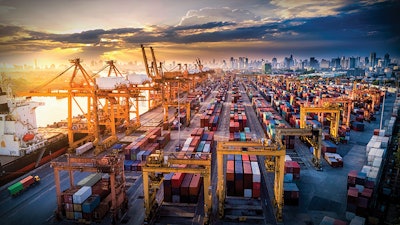 The effects are being felt heavily up and down the food and beverage supply chain. Not only are consumers seeing empty shelves at the grocery store, but delays in processing or transportation combined with limited shelf lives can lead to spoilage and waste. On the other side of the equation, issues with the supply chain can make it difficult to get new equipment or replacement parts used in processing—freezers and refrigerators, mixers and blenders, conveyors, and other machines.
"Potentially, both the goods themselves and the infrastructure that makes up the supply chain function are at risk," says Mahesh Veerina, CEO and president of ParkourSC, a company specializing in supply chain intelligence software.
There are a variety of technologies available that can help manufacturers overcome such supply chain issues and mitigate their effects. Artificial intelligence (AI), machine learning, digital twins, the cloud, Internet of Things (IoT) technologies, and track-and-trace and other types of software can all play a role. To be most beneficial, however, these technologies require improved collaboration among all the players along the chain.
Kraft Heinz's predictive strategy
In the past, food and beverage was typically reliable and demand foreseeable. Making predictions about the future was relatively simple just by examining what had happened in the past. There was no need for advanced technologies to help companies squeeze inefficiencies out of the supply chain.
Already made less resilient by a changing climate and unpredictable weather events, the supply chain was really upended by the COVID-19 pandemic. What had happened in the past became less useful when trying to peer into the future.
Efforts are being made now to use technologies that will help spot patterns in the data—patterns that are not so easily recognizable by humans. Kraft Heinz, for one, is investing heavily in a more digitized approach to create a more predictive strategy and rapid response model. Its ambitious Agile@Scale approach creates a continuous improvement cycle in part by partnering with technology giants.
In one of its latest moves, Kraft Heinz has partnered with Microsoft to help improve the resiliency of its supply chain by migrating the majority of its data center assets to the Microsoft Azure cloud platform. This will provide real-time predictive analytics to improve inventory transparency and anticipate consumer and channel demand.
"Our collaboration with Microsoft is a critical piece of our transformation strategy, providing us with the machine learning and advanced analytics to drive innovation and efficiencies across the supply chain so we can get products into the market faster, better serve our customers and, ultimately, deliver on the sustained and growing consumer demand our iconic brands continue to experience," said Carlos Abrams-Rivera, executive vice president and president, North America for Kraft Heinz, in a statement.
A centerpiece of the collaboration is Kraft Heinz's Supply Chain Control Tower. Powered by Azure's AI, IoT and data analytics capabilities, it will provide real-time visibility into plant operations and automation of its supply chain distribution across the company's 85 product categories.
"The past two years have highlighted the urgent need for digital-first supply chain solutions across every industry," says Judson Althoff, executive vice president and chief commercial officer for Microsoft.
The more data the better
Several technology suppliers are approaching the changing supply chain environment in a similar way. "Infor in general is turning more toward AI and machine learning," says Valerie Tardif, vice president of product management for the supply chain group at Infor, which provides enterprise resource planning (ERP) software.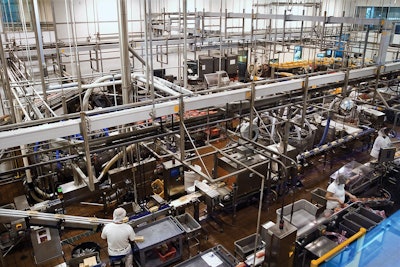 Machine learning technology takes in data—the more the better—to deduce an outcome. After constructing a model, the system runs it to classify items. Or a more complex system could anticipate supply chain problems by monitoring prices and lead times of various ingredients. A machine learning system examining the data could uncover such links between measured parameters and supply chain performance, thus enabling predictions of future trends and the spotting of future problems.
The input for machine learning, however, has traditionally been based on past data, making it difficult to deal with the black swan events that have been prevalent in recent years. One way that Infor better handles rare and unusual disruptions is to do trend spotting with more than a customer's own internal data.
Food and beverage processing requires many inputs—all of the raw ingredients, for example—that might come from many different suppliers. Each material has its own shelf life, and each supplier might be using a different transportation method to get that material to a processor. The supply chain is complex and influenced by numerous factors, some far removed from what is evident using a process line's own internal information.
To better reflect this reality, Infor brings in market signals, such as oil prices, that affect demand. Other factors fed into the machine learning system are signals such as weather patterns along with geographical or political disruptions. "We have a model now that incorporates all of that and predicts much more accurately based on those signals, reducing the weight of past data," Tardif says.
Getting the data right
Machine learning requires as much data as possible during the training phase. Dealing with massive amounts of data and looking for patterns in it means that the system needs large amounts of computing resources during this time. Once built, though, a model typically requires much less in the way of computing power to scan incoming data for a telltale signal. Cloud technology allows an easy expansion or contraction of computing and storage resources.
It's important that the data used to build the model is clean, Plex's Surenian cautions. There will always be some noise and error, although automating data entry and reducing manual record keeping will eliminate some of that. Machine learning systems can actually clean up input data, thereby improving prediction performance, he adds.
Testing the system on events outside of the training data can help validate it, Surenian notes. Thus, users can run the model against past data and see how well it predicts known history. Feeding a model more data further refines it, and this cycle of improvement can repeat over and over.
No model is perfect, so a machine learning-based approach might be only marginally better at predictions compared with what another approach, like using historical data, achieves. A minor increase in accuracy might nonetheless be worthwhile.
"Even a 1% accuracy improvement in projecting what can happen has a cascading effect on efficiencies, productivity, on gross margin, and so on," Surenian says, adding this can be particularly beneficial in the food and beverage industry because profit margins tend to be tight.
Just like the real thing
Digital twins take the data, AI, and machine learning to another level. By leveraging cloud technology, these digital replicas of real-world systems can enable the digitalization of the entire end-to-end supply chain, monitoring it at multiple levels, notes ParkourSC's Veerina. Embedding intelligence in digital twins builds transparency and allows collaboration.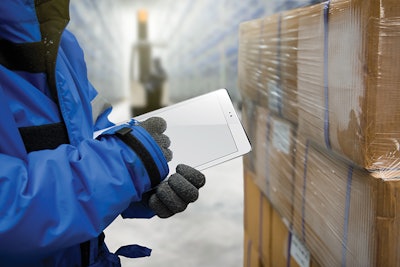 "Any variance or disruptions to the plans can be identified and flagged quickly," he says. "Better yet, using digital twins to model scenarios where disruptions may occur allows organizations to prepare for them proactively."
The partnership that Kraft Heinz announced with Microsoft includes a plan for digital twins as well.
The food processor is creating digital twins for its 34 owned manufacturing facilities in North America to help test and perfect solutions before applying them on the plant floor.
Fueled by Azure Digital Twins, the technology will help predict outcomes that identify optimal product capacity and reduce mechanical interruptions by proactively addressing issues before they occur.
Likewise, digital twins could be used to explore what might happen if there were new lockdowns throughout the world due to COVID-19, extensive flooding or fires in the U.S. caused by climate change, interruptions in the supply of raw materials such as wheat or sunflower oil because of Ukraine's war with Russia, or any other scenario that might arise. This virtual stress testing of the supply chain can point out weaknesses and suggest actions to take to address them before, during, and after an event.
Digital twins, like any simulation of the real world, are more useful the closer they are in terms of behavior to the real thing. By providing ample storage and computing power cost-effectively, cloud technology allows more detailed digital twins, making them better at mimicking their physical counterparts.
IoT, another attention-attracting technology, plays a role in solving supply chain problems because IoT sensors collect and communicate data, with this information fundamental in generating a complete and accurate assessment of product manufacturing and distribution. Both machine learning and digital twins gain from such data.
Supply chain analytics all begin from the same basic data, Surenian points out. "Everything we're talking about starts with a company's transaction system," he says.
The information from this system makes possible such investigations as looking at a product's bill of materials and teasing out contribution of each ingredient or component to the revenue generated by that product. Armed with this knowledge, companies can look at the sourcing of those inputs and determine which inputs look to be in good shape and which seem shaky, in this way assessing the health of the supply chain. Such an analysis could completely change how a company goes about reducing risk, Surenian says, because it could show that what seems like an unimportant and inexpensive component might actually be critical.
Collaboration is essential
Technologies can also help supply chains become resilient by combining a variety of functions to improve data visibility. DelmiaWorks' software, for example, integrates ERP with manufacturing execution system (MES) functionality, providing end-to-end visibility across the supply chain, says Louis Columbus, senior industry marketing manager for DelmiaWorks.
But technology alone isn't enough. "Food and beverage companies also need to create stronger collaborative partnerships with suppliers and be transparent with them to create more trust," he says. "The goal needs to be sharing ownership of the current challenges with their suppliers so they can act as a team, reducing risk in the process."
Achieving that kind of close cooperation can be challenging. Build-to-stock manufacturing could involve inventory intended for many parties, with processing taking place at many different sites, Infor's Tardif notes. This co-mingling of different supply chains means that some of that inventory could be going to food processors that are competitors.
Naturally, then, the intermediate processors might be reluctant—or even contractually forbidden—to reveal much detail. But even if the available information is just shipment numbers along with general production figures and raw materials purchased, sharing could be beneficial, according to Tardif. "It helps," she says, adding that information exchange related to supply chains works best when it's a two-way transaction. "It's a quid pro quo."
Limited supply chain visibility leads to such problems as seemingly separate sources actually depending on only one supplier, with this single point of failure perhaps several steps removed from the food brand owner. An example is what's happened recently to cooking oil, with the price of olive, sunflower, and other oils doubling or tripling—if they're available at all. This happens across all cooking oils as manufacturers begin substituting other oils in their products. The resulting issues impact food, hygiene, and personal care products that use these oils.
Track-and-trace software can find such hidden points of failure by examining the movement of ingredients, materials, assemblies, and components through a supply chain, Columbus says. Typically, this approach involves capturing every event, including every transition point in the supply chain. In food and beverage processing, track-and-trace brings the added advantage of playing a role in stopping the use of counterfeit ingredients.
Getting to this level of information, though, is difficult and time-consuming. Smaller organizations might lack market clout to push suppliers to reveal information or might not have the staff to make use of the transaction information if obtained. "Supply chain networks are complex, and very few organizations can trace their supply chain beyond Tier 1 suppliers," Columbus says.
To up supply chain resilience, he advocates pursuing a multi-source strategy, with technology mapping supply chain interdependencies. Secondary sources could be domestic or at least near-to-shore as a way to improve visibility, response time, and control. Track-and-trace technologies can help in assessing the trade-off between buying from a nearby vs. remote supplier.
In addition to technology innovations, Tardif points to a move taking place from a just-in-time to a just-in-case philosophy, an observation echoed by others in the industry. Such a shift involves a change in corporate goals, requiring such modifications as allowing inventory levels to rise. This adjustment to previous practices, though, should also align with other goals, such as meeting sustainability targets, Tardif says. Once a processor makes such a change to a just-in-case objective, then technology can help optimize the supply chain.
Thus, machine learning, digital twins, the cloud, IoT, and track-and-trace software are not the total solution to supply chain challenges, but they are fundamental pieces to the fixing the supply chain. "Automation and information technology systems are the foundations of success," Columbus asserts.
Companies in this article