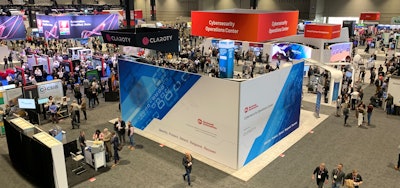 The 31st annual Rockwell Automation Fair drew more than 18,000 attendees over two days in Chicago, giving industry professionals an inside look at how Rockwell is addressing current challenges and trends through industrial automation and digital transformation.
One session during the event featured food and beverage executives discussing how technology can be applied to ongoing labor issues and other processing challenges. Here are some key takeaways from that session.
Working with a purpose
The panelists agreed that before any technology options are implemented into a food processing facility to help with labor—like adding robots or cobots, for example—the company culture from the top executive down to every new hire needs to be infused with a sense of purpose.
"Really think about the culture of your organization," said Michael Chaney, retired SVP, product supply at Proctor & Gamble. "Employees want to feel like what they do matters and is valuable, so make it valuable. Let them know they're making a difference. Train them and let them know they're developing and learning new skills. All of that is part of the culture you create as an organization. If you're dependent on [retaining staff through higher wages] it's not enough."
Brian Marsh, senior director, digital manufacturing at Nestle, added, "There's not a large enough labor pool out there to fill our needs. There's lots of options for people to do other things now, so it's really important for us to create a new environment for people to come into manufacturing. We're constantly looking at new ways of working in our factories to try and make it more fun and easier by eliminating jobs nobody wants to do."
Marsh mentioned a new initiative he created that combines technology and team communication is an OEE workgroup made up of line operators at Nestle that meet regularly and parse data to identify trends on their equipment, and lets them solve challenges together. "You need to allow time in their schedule so they have an opportunity to do that," he said.
Chaney relayed a story about when he worked at Proctor & Gamble—which owns Gillette shaving products—and how the company developed a bargain single-blade razor called the Guard, which filled a niche in India, where many people couldn't afford a safety razor. "We saw guys trying to shave with these terrible razors, and blood was flowing down their faces," he says. "So we created the Guard, and our young [workers] got so excited because they were helping people. Young people want [to work for] companies that are helping the environment and the community. They'll figure out how to apply technology to make your business better."
Simplify training
Andrea Zaman, COO, Pearson Packaging Systems, posed a rhetorical question to the audience that cut to the core of today's training issues for new hires. "What if your entire production floor is all brand new at the same time with no experience? Now there's your workforce challenge."
New workers are needed to contribute faster than ever due to ongoing (and widening) gaps in the food manufacturing workforce, so technology like digital twins and augmented reality (AR) are becoming essential training tools today.
"Nobody wants to sit in a classroom and read three-inch binders full of standard operating procedures. So how do you get them on the floor and engaged quickly? Give them the information they need at their fingertips so they can start doing something vital," Marsh said. "Being able to build these virtual environments, you can get people trained on things before they even touch [a machine]."
Passing down tribal knowledge from experienced workers was another topic of discussion, and how social media and smartphone/tablet video recording can make it easier for retiring workers to transfer crucial information to today's digital native workforce.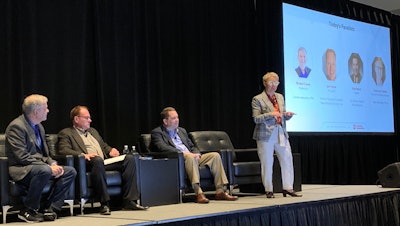 "I remember working with the Ford Motor Company once and watching one of their machine operators, and the next thing I know, he was gone. He actually knew a sound his machine made that meant a seal was going to blow, so he went to get maintenance to replace it before it blew," said Joe Francel, director, business programs, manufacturing service line, Microsoft. "There are things that people do on a daily basis where you have to capture that knowledge."
Marsh added that at one of Nestle's pizza plants, they have a machine operator "who loves TikTok so much that he started creating videos on how to do different things on the line. My team can build a training video, but what he was doing was much better. We had people laughing on the floor and everybody wanted to see that video. We're now trying to create a new job for him because of his passion around making those videos. So, if you see what I call the 'bright lights' in your organization, try to embrace them, even if it means creating a new job for that individual within your organization. They love what they're doing and they're going to be more passionate than anybody you'll find outside your organization."
Applying technology
Outside of workforce issues, the panel discussed utilizing technology and the associated data it generates to alleviate specific challenges in a food manufacturing environment. "Prioritize what your business is trying to solve," noted Francel. "Don't collect data just because you can, determine the value of that data and use it to make decisions in your process."
Francel also emphasized that when real-time data is applied, it can help solve problems before they happen, while the opposite is true when that data is ignored. To highlight this, he told a story about working with a coffee manufacturer that relied on a historical shift report for past sales rather than real-time data to gauge the volume of Christmas blend coffee to produce that holiday season.
"The coffee was extremely popular that year," Francel said. "We had the [sales] information, we knew people were buying it, but we weren't using [the real-time data]. So, we ran out of Christmas blend coffee before Christmas occurred. We had the information from the stores, we knew demand was at a higher rate than originally expected, but nobody looked at [the data]."
Companies in this article