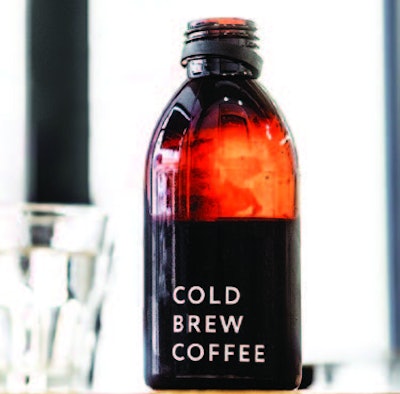 According to "2019 Trends and Advances in Food Packaging and Processing," a report by PMMI Business Intelligence, beverage holds a 14.6% share of the nine food categories, with the number of establishments increasing to 9,033 between 2014 to 2017 (a CAGR of 10.9%),and the number of employees increasing to 194,881 in the same period, at a CAGR of 12.9%.
Beverage product packaging trends include a growing demand for ready-to-drink beverages such as tea, flavored water and fermented drinks, including kombucha. Functional ingredient juices are growing over sugary fruit juices, and millennials are driving growth of cold brew coffee and spirits.
"Beverages are always growing, especially energy drinks with supplements and hot and cold coffee and tea," said one Principle Engineer at a leading beverage company.
Glass and plastic are both popular packaging choices for cold brew coffee, and smaller cans and bottles are replacing traditional sizes in the general market. Canned wine is a popular growth driver in the can format. Also, spout fitments have promoted the growth of flexible packaging in the beverage market.
Beverage Product Processing Trends
• Reworking recipes: replacing sugar and using natural colors/flavors to reduce calories.
• Compromised taste due to less sugar, but in time consumers will accept flavor changes.
• Revival of old niche brands.
• New flavors and blends.
• Nutrient fortified drinks.
• Overall mistrust of artificial flavors and sweeteners.
• Organic, natural, and high protein are popular trends.
• CBD and THC being added to beverages where legal.
On the consumer end, ready-to-drink (RTD) coffee beverages are seeing double-digit growth with a CAGR of 26.4% in the last year due to the shift away from carbonated soft drinks and the rising popularity of cold brew.
The energy drink market also continues to see steady growth (11.3%) in recent years, and powdered energy drink mixes are growing at a rate of 11.3%. Sports drinks, however, have declined over concerns with added sugar.
Source: PMMI Business Intelligence "2019 Trends and Advances in Food Packaging and Processing"
Download the FREE Executive Summary below, or PMMI Members can download the entire report here.