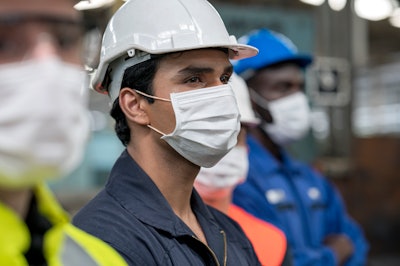 At the 2021 Executive Leadership Conference (ELC) from PMMI, The Association for Packaging and Processing Technologies, Gardner Carrick, vice president of strategic initiatives at The Manufacturing Institute (MI) and National Association of Manufacturers (NAM), presented technical workforce development trends, both in connection to and beyond COVID-19.
Results show that since 2010 there has been an increase of nearly a million and a half jobs in manufacturing, which decreased when the pandemic hit. Though recent studies suggest the numbers have rebounded and are returning to previous counts.
Beyond COVID-19, the second key business challenge of 2021 is the continuing struggle of attracting and retaining a quality workforce in manufacturing. Research proves that this issue is systemic and not transitory. There's not a "strong enough pipeline of individuals desiring to go into a career in manufacturing, and not enough breadth of training programs to prepare them with skills to be successful in those careers," said Carrick.
MI and NAM prioritize the success of manufacturers and their workforce, whether it be through fighting for manufacturer rights, providing news and intelligence about the industry, or through initiatives to support the diverse American workforce by providing skilled training programs.
The MI and NAM efforts, presented at ELC, are:
Creators Wanted, which exhibits in towns to invite high school students to enter the manufacturing field post-graduation. MFG Day–when facilities open their doors on the first Friday in October–has been combined with Creators Wanted. It includes virtual tours and 3D maps, as well as a MFG Day webinar series.
Military and veteran recruitment starts these brave men and women on their next career. Individuals on their last six months of service can start training in the MI programs, which have recently been modified to include networking days with manufacturers. In addition, both non-commissioned and commissioned officers have shown increased interest in leadership roles in manufacturing. These programs are available at five U.S. military bases.
The STEP Women's Initiative, which includes training women to be role models in their community. More than 800 women have been recognized so far, with hundreds of companies participating.
The NAM Pledge of Action ensures broad-based recruiting strategies "to cast as many nets as wide as possible in order to fill the roles that we need," said Carrick. This allows for greater diversity in the workforce by reaching out to minority communities.
The Second Chance operation is for those with criminal records. Studies done on retention routes and productivity of individuals show that those in the Second Chance program have a competitive drive to keep their positions.
Apprenticeships and credentials
Once a workforce is obtained, however, training is indispensable in making each individual's manufacturing career a success. Manufacturing-related positions focus on keeping machines working, which requires technical skillsets that go beyond the abilities of technical colleges. Carrick emphasizes that companies, with their up-to-date knowledge, need to be involved in the learning of future generations and the development of scholastic programs every step of the way, including apprenticeships. This is also a great opportunity to offer debt-free education and show the new workforce that the company is invested in them, which Carrick says will help gain their trust.
An apprenticeship program that Carrick highlighted is FAME, the Federation for Advanced Manufacturing Education–created by Toyota. FAME is a multi-skilled maintenance technical program operated by a group of companies, which further promotes professional behaviors in dress and speech, and educates workers on the culture of manufacturing, or in other words, how to think as a maintenance employee.
Another aspect of forming a quality workforce is credentialing. The credential market has been filled with credentials that are lacking, creating confusion on industry standards. NAM and MI have created tools to evaluate individuals and credentials in an attempt to rectify this confusion. Carrick reports that states are already lining up to back this standardization.
PMMI efforts to build the workforce
PMMI has invested in a single employer model with Amazon to develop an apprenticeship program. Amazon wanted to develop a program to upscale current employees, which would build a baseline to allow individuals to fully make a career in the industry. The company had been looking for different models and certifications to provide standards to align to. PMMI's mechatronics' certification program became the base of Amazon's apprenticeship program, which allows individuals to not only finish the program but obtain certifications as well.
PMMI saw a huge increase of 223% in utilization of the certification program throughout 2020. This increase is expected to continue as more schools offer the certification program thanks to the Amazon apprenticeship program. PMMI is also attempting to get involved in efforts to make military aware of the industry and become properly trained.
As research shows that the majority of students who study in manufacturing programs do not end up in the manufacturing workforce, PMMI created its Skills Fund for the future workforce. It allows companies to work with local education programs and donate money or equipment. PMMI then matches company donations up to $50 000. This helps companies build stronger relationships with their local education programs.
Learn more about PMMI-s workforce development programs at https://www.pmmi.org/workforce/current-workforce.
PACK EXPO Las Vegas and Healthcare Packaging EXPO (Sept. 27-29, Las Vegas Convention Center) will reunite the packaging and processing community, offering new products, technologies and solutions, while implementing up-to-date protocols for a safe and successful in-person event. Attendee registration is now open.
Companies in this article