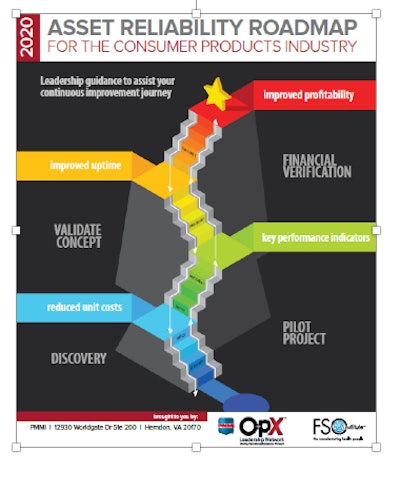 Image Courtesy of PMMI's OpX Leadership Network
For years, participants of the OpX Leadership Network have discussed how to drive awareness of asset reliability and its substantial, untapped potential for consumer packaged goods (CPG) manufacturers to positively impact their output reliability.
Earlier this year, the OpX Leadership Network published the "Asset Reliability Roadmap for the Consumer Products Industry." This document provides leadership guidance and insights to improve asset reliability within a CPG company and enable dialogue with key OEMs to engage in the effort.
During the same time, the FSO Institute, a facilitator in the development of the Asset Reliability Roadmap, launched a Manufacturing Health Assessment survey on the topic to establish an industry baseline to provide the data to make better decision-making. The preliminary findings from the FSO Institute's Manufacturing Health Assessment survey on asset reliability (described as the absence of unplanned downtime achieved through both maintenance and operational effectiveness) is being shared publicly for the first time.
The key findings include:
Significant upside opportunity for the CPG industry: Over 43% of respondents consider their companies as beginners in the journey to asset reliability. Another 37% have entered the intermediate stage.
Diminishing confidence in flexibility or nimbleness to meet future needs: While 68% have confidence in current capabilities, the uncertainty of the future takes that positive outlook to less than 50% over the next three years and meeting e-commerce requirements down to 25% positivity.
Reactive maintenance tactics still rule the day: Nearly 70% of companies are still reactive, while far fewer indicate they bring predictive analytics to asset reliability.
Uptime improvement is new capacity without the expense: 93% state their performance can be improved substantially. Over half of these companies see uptime improving between 8% and 15% per line.
Changeovers continue to impact uptime reliability: More than 62% note that they are not running reliably coming off a changeover, with 68% acknowledging their lines are ill-prepared to take on more frequent changeovers.
No time to waste: Only 12% of companies can reach "first hour full power" more than 80% of the time.
Enabling technologies to better inform the floor: Greater than 56% of companies state their companies' lines are not capable of notifying those who can provide needed attention to fix a problem.
Production challenges are compounded with the current supply chain issues, inflationary pressures, and labor shortages. So, how do we begin to address these obvious challenges or opportunities to improve? According to the OpX Asset Reliability Roadmap, "asset reliability is focused on the planned and unplanned downtime reduction which inhibits the machine from performing its intended function in the schedule as expected. Or put another way, is the machine doing what it is supposed to do, when it is supposed to do it?"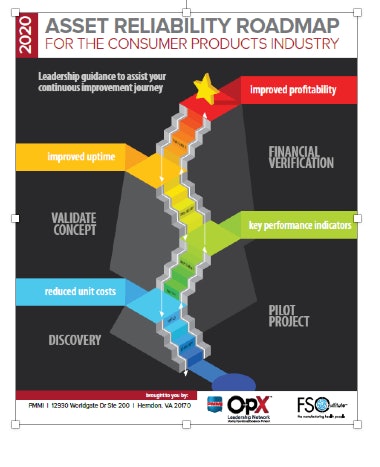 The Asset Reliability Roadmap provides direction on next steps, such as building a business, discovering the opportunity, and validating the concept. Understanding and communicating the financial impact of asset reliability is foundational to building a case that is compelling to company leadership. That analysis is comprised of several key data sets that are calculated based upon your company's actual performance. These data sets include:
• Availability: By reducing both planned and unplanned downtime, there is a commensurate increase in the uptime opportunity.
• Output Improvement: The equipment efficiencies to achieve the uptime opportunity can also positively impact reliable output performance, e.g., more units/cycle produced at required quality.
• Cost management: Effectively managing the cost of maintenance labor through better utilization of existing staff, combined with better inventory control of the maintenance, repair, and operations (MRO) costs and supply.
The Asset Reliability Opportunity Calculator is an excellent tool to assess the "size of the prize" quickly and effectively by achieving improvements to uptime performance. This tool uses your company's actual performance data on unplanned downtime, units produced, cost of goods sold, and your desired improvement goal for the next year. The result is the value of added uptime for that line.
It is important to gain leadership support and buy-in by proving what can be achieved. Be sure to identify and engage with the critical stake-holders from project inception and throughout. To validate the concept, it is important to be thorough in defining the scope of the project, objectives, and expected outcomes. At the conclusion, document the results and include lessons learned. Financial validation is confirmed by tying back to the Asset Reliability Opportunity Calculator preliminary findings.
Untapping the hidden potential from your asset base could have a profound impact on your company, associates, and customers. The upside is impressive in the near term by controlling unit costs (and even reducing them), improving your operational effectiveness as a dependable supply chain partner, and finding that hidden plant with-in your operations that can defer major capital expenditures.
Companies in this article