PMMI Business Intelligence, 2022 Meat, Poultry, Seafood & Alternative Proteins: Automation, Expansion, Sanitation.
Demand for meat, poultry, and seafood packaging is predicted to increase by a CAGR of 3% to 3.5% from 2022 to 2025, according to PMMI Business Intelligence's 2022 report "Meat, Poultry, Seafood, & Alternative Proteins: Automation, Expansion, Sanitation." Despite sustainability concerns, plastic formats will see some of the highest growth, especially vacuum-based formats, pouches, and plastic trays.
Bag It Up
Flexible bags are a popular format for all types of meat, poultry, and seafood. Larger cuts of meat and whole chickens are often packaged in vacuum or shrink bags for convenience and transparency.
One VP of operations at an SME meat and poultry company says they "have experienced growth throughout the COVID years in both fresh and frozen meats in shrink bags and sleeves."
Vacuum bags in particular are growing in popularity as they combine several key consumer preferences into one packaging format: physical transparency, effective barrier properties for better presentation, and an overall reduction in material compared to other formats.
In a sub-survey, 50% industry respondents predict use of vacuum bags will grow in the near future, while 8% say the format would decline. The remaining 42% of respondents predict no change.
Flexible packaging like bags can also have benefits for manufacturers by minimizing the physical size and overall weight of individual units, which improves cost efficiency for transportation.
Trays: Challenge and Opportunity
Trays remain one of the dominant packaging formats in protein industries, especially for individual or family-meal servings of red meat, poultry, and seafood.
The most common tray types are still polystyrene (PS) and polyvinyl chloride (PVC). While long established as a standard format that is familiar to consumers, PS and PVC trays are at odds with the consumer preference for sustainable packaging.
Consumer preference for sustainability drives change, but practicality also influences decision-making. "Our R&D team strives to improve packaging sustainability to satisfy consumer desires, but it needs to be cost effective," says an associate packaging engineer at a large fresh and frozen poultry company.
To accommodate this preference, manufacturers are exploring more sustainable options like recyclable and even compostable trays made from different materials, but these are difficult to develop due to the product contaminating the tray (preventing recycling), and consumers have proved reluctant to accept alternative formats.
"APET (amorphous polyethylene terephthalate) trays [a popular alternative to polystyrene] are typically not recyclable due to contamination from the products placed in it," says a packaging specialist at a food OEM.
Growth predictions vary based on each format of tray. The majority (67%) of respondents say foam trays will soon see a decline. On the other hand, most respondents (62%) are betting on growth for vacuum trays, with 38% predicting no change and none predicting a decline.
One format that has shown promise is oven-ready aluminum trays, which are both convenient and perceived as value-add by consumers. Striking a balance between a format that is more sustainable while remaining acceptable to consumers is an ongoing industry challenge.
From Cans to Pouches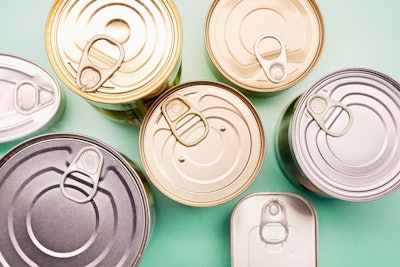 Canning is most popular in the seafood segment, where cans have long been a shelf-stable format for seafood. Consumer preferences have shifted however, and the trends of convenience, transparency, and aesthetics have resulted in consumers expressing growing interest in flexible pouches over traditional cans for shelf-stable seafood.
Industry respondents say use of the can format will decline (40%) or see no change (50%), with just 10% predicting growth. Conversely, pouches are mostly expected to grow (73%), with 9% of respondents predicting a decline, and 18% no change.
Pouches align with specific consumer packaging value-add preferences as well, including easy-open and resealable features. Pouches are also a convenient packaging format for frozen seafood. All of these factors are currently coalescing to drive growth in pouched seafood products.
Source: PMMI Business Intelligence, 2022 Meat, Poultry, Seafood & Alternative Proteins: Automation, Expansion, Sanitation.
Download the FREE report below.